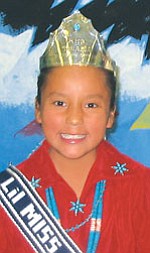 Originally Published: December 12, 2006 5:12 p.m.
Hello, people of the Navajo Nation. I would like to honor our veterans as we celebrated Veterans Day not too long ago. It is also with great honor and excitement that I announce my title as the new 2006-2007 Lil' Miss Tonalea. I was crowned on the evening of Nov. 17 at Tonalea Day School. I would like to take this opportunity in having you all become familiar with who I am.
My name is Shania Begay of Cowsprings. My clans are Bitter Water born for the Towering House People clan. My maternal grandfathers are of the Red Running into the Water People clan. My paternal grandfathers are of the Tangle People clan. My parents are Wilson and Leta Begay. My maternal grandparents are Gordon and Lilly Claw of Rat Springs. My paternal grandparents are the late Johnny and Nona Begay of Sandsprings. I'm the only girl of five siblings. My brothers are Anthony, Shanye, Jordan and Shaquille.
I attend Tonalea Day School as a fourth grader. I would like to send the message out to all my young schoolmates to stay in school, try your best and to always believe in yourself and succeed. Find ways to make yourself the best person you can be. Listen to your parents and grandparents because our legacy is woven within their knowledge. Gather as much background about our culture and traditional values because we are expected to carry them on. Take as much effort as you can to learn how to speak, write, and comprehend the Navajo language. Wake up every morning before the bus comes and pray to the rising of our father sun.
I will focus on making my title reign a success and hope to one day follow the footsteps of my cousin-sister Tasheena Tisi who currently holds the title of Miss Western Navajo 2006-2007. I will dedicate my time and effort to community events as I am requested. I will represent the community of Tonalea and its surrounding area, my fellow schoolmates and my people of the Great Navajo Nation to the best of my ability.
I would like to send a Thank You to the Creator for all he has done for me, my parents, my brother Jordan who has always been there for me teaching me new traditional skills ranging from a prayer to a song, my aunts MaryAnn and Elsie for always believing in me, my grandma Rosie, and my grandparents for all they have contributed to my reign and all the words of encouragement. I would like to thank everyone for what they have done.
Until next time, Happy Holidays and always be safe!