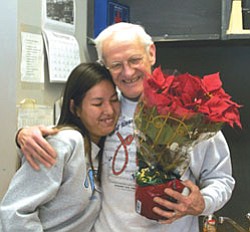 Originally Published: December 12, 2006 6:35 p.m.
FLAGSTAFF-He was involved in bringing the Tozan Kiln to the Northern Arizona University campus and is known to ceramics enthusiasts all over town. Now, Don Bendel also is known as Coconino Community College's 2006-2007 Teacher of the Year.
Bendel, who commonly encourages his students to "give the clay another chance," was surprised during a ceramics class this morning when a group of faculty members and students presented him with the news. He has been teaching at CCC for three years and says he enjoys having older people learning together with younger students in his classes. "They help [each] other. I see this dramatic change in people and I get a big kick out of that."
In addition to Bendel, CCC English teacher Judy Stiers has been honored as the college's 2006-2007 Associate Teacher of the Year. "This is such a huge surprise because you never know what kind of impact you are having. It makes me feel wonderful to be held in such high esteem by the faculty, administration and students."
Stiers also teaches philosophy and humanities classes and has been teaching part-time at the college for eight years.
The teachers of the year are nominated by students and peers. One student calls Bendel "a gem" and that "his upbeat and positive personality has a motivating quality." Another wrote, "His class changed my life. It has made an artist out of me."
Stiers is known for her open class discussions about ethics. "She never judges what others share," wrote one student. "She is a genuine instructor who always encourages the class to participate. I have found that this class helps me to open my mind."
Both Bendel and Stiers will be invited to attend a national teachers' conference in Austin, Tex. this spring and will receive free CCC parking permits for 2007.