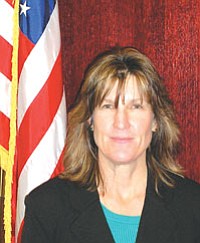 Originally Published: December 5, 2006 11:14 a.m.
FLAGSTAFF - Coconino County Presiding Superior Court Judge Fred Newton has appointed Elaine Fridlund-Horne as Judge Pro Tem for the newly formed Integrated Family Court.  Judge Fridlund-Horne has practiced law in Flagstaff since 1995 and has served as a Superior Court Commissioner since 2004.  The formal investiture ceremony will take place on December 20.
Judge Fridlund-Horne brings a strong commitment and dedication to children and families, as well as a thorough knowledge of family law, to the new court, which will be operational by January 2007. The court will increase essential services to families in the judicial system, emphasize mediation, and work to coordinate all cases involving a family under one judge.
In addition to her private family law practice, Fridlund-Horne has been a mediator for both Juvenile Court and Superior Court's Alternative Dispute Resolution program. She was instrumental in the development of the Coconino County Volunteer Domestic Relations Guardian ad Litem program, has conducted the "How to Represent Yourself in Court" seminar since its inception in the late 1990s, and has taught a child custody and parenting class as part of the Coconino County Parent Education course.
Fridlund-Horne serves on the statewide committee to establish the Arizona Rules of Family Law Procedure, and the Arizona Chapter of the Association of Family and Conciliation Courts. She was also the recipient of the 2005 Coconino County Presiding Judge's Award.
For more information, call Court Administration at (928) 779-6804.