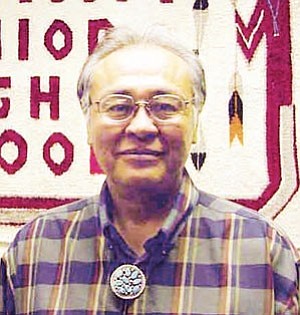 Originally Published: August 24, 2006 4 a.m.
TUBA CITY -- Lee Tsinigine, recently named to the new post at Tuba City District as principal of the Tuba City Junior High School, is a veteran educator and has been in the business for more than 30 years.
Tsinigine has an extensive professional education background with two master's degrees in both Educational Leadership and Administration and Secondary Education and an undergraduate degree in Elementary Education all from Northern Arizona University. Tsinigine has consistently worked toward utilizing experience and leadership to bring the most effective organized goals and objectives for raising student achievement.
His former post as principal of the Tuba City Primary School, with approximately 400 students and 80 staff members, gave him seven years of state-recognized high achievement for his young students. Tsinigine will now take that experience and apply its academic success principles to his new charges at TC Junior High School.
During his tenure at TC Primary, Tsinigine along with his award winning staff members, substantially raised student achievement on test scores (Stanford 9) to above the national average/norm.
He also implemented exemplary programming in the areas of reading, math, science and writing that were research based, compatible with brain-based learning and proven effective with Native American students in low socio-economic status.
Prior to Tsinigine's experience at TC Primary he was the principal at Cameron's Dzil Libei Elementary School and also an administrative assistant at Coalmine.
"I was transferred this contract year to TC Junior High and it was very difficult for me to leave my former post at the Primary School. But I have had some time to reflect on the change and I now realize I have much to do to get our students and staff members ready for this school year.
"I am enjoying my new staff members and this new experience. My personal vision for the students has always been for them to be successful in life and not just at school. I want them to have a fulfilling future and enjoy life. I would like them to achieve whatever they want to be. Our district has a new motto this year, and that is a 'Culture of Excellence.'
"I believe that it means for our students and teachers to hold our students and teachers to the very highest standards possible.
"In creating this "culture of excellence" we must build a strong partnership with our parents and our local community. I know as educators we want to have a good community and so do our parents. Each of us play a major role in providing our children with a high-quality character-building education.
"Our junior high school has a great staff and I feel very privileged to be able to work alongside them this year. Everyone has a positive attitude and I feel from them a strong commitment and urgency to raise our academic standards so we can meet both NCLB and AZ LEARNS AYP requirements.
Our junior high is on the right track and we will continue many of the things that have already been started. Our school along with many other schools has taken on the School Reform efforts and we are analyzing programs and instructional strategies that are research-based which have proven records of high levels of success.
"I only wish I was 20 years younger -- to have more energy and life from back then, combined with what I have learned over these past 30 years now -- I could get a lot more done and hopefully be able to extend that experience, interest and knowledge to our students."
For more information about the TC Junior High School and its programs call 928-283-1055 or 1054.