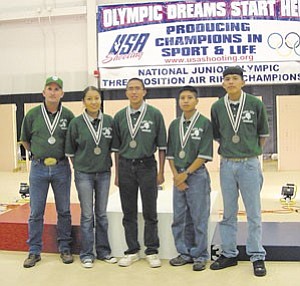 Originally Published: August 3, 2006 4 a.m.
TUBA CITY ----TC High Marine Corp Junior ROTC earned the right to represent the state of Arizona by winning the Arizona State Jr. Olympic Championship in April.
At this annual competition Tuba City High won 9 of 9 gold medals.
Only one team from each state advances to the Jr. Olympic 3 Position Air Rifle Nationals Championship which is held at Bowling Green, Ky. each July.
Tuba City High took 2nd Place in this national competition, held July 23, bringing home a silver medal.
" I am extremely proud of the team's performance at this national competition, said Gunnery Sgt. Timothy Shaner, TC High Air Rifle Coach and teacher/sponsor of his four-man marksmanship team. "Each of our members represented not just our school but our community of Tuba City and our state with their professionalism and sportsmanship. Each of our winning team members were presented with a beautiful Olympic silver medal and certificate for their overall team win."
A total of 174 competitors were at this year's event in Kentucky.
The 2006 Tuba City MCJROTC Marksmanship Team members are: Charles Lee, 12th Place Overall; Darrell Robbins, 17th Place Overall; Ashley Manygoats, 42nd Place Overall; and Darrin Talawepi, 45th Place Overall.
Sgt. Shaner said that Tuba City High School Marine Corps Junior ROTC wants to acknowledge the Upper Village of Mungapi Education Committee and the Marine Corps League for monetarily supporting the team trip to Kentucky. Special thanks to the Tuba City District Department of Transportation, TCUSD, TCHS administration and community of Tuba City for supporting this national team throughout this past school year. AirGas in Flagstaff also supplied the CO2 for the TC High Team's air rifles.
The next TC High Marksmanship event will be Sept. 16 in Tucson at the 13th annual "Old Pueblo" Tournament.
(Rosanda Suetopka Thayer is Public Relations Director for Tuba City Unified School District.)
More like this story