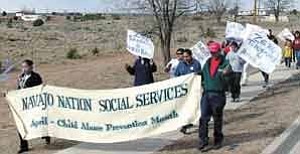 Originally Published: April 20, 2006 4 a.m.
WINDOW ROCK -- Child abuse on the reservation is a crime perpetuated against the innocent, often resulting in psychological and physical pain for children.
On April 4, Navajo Housing Authority partnered with the Navajo Nation Division of Social Services, Dawn of Recovery, Fort Defiance Agency Head Start and the Window Rock Indian Market to march against this crime against children.
Nia Francisco, community involvement specialist for the Navajo Nation Division of Social Services in Ft. Defiance, said there have been marches against child abuse since the 1980s, which originally began in Ft. Defiance and ended at the Navajo Nation Council Chambers.
"When the walk was from Ft. Defiance to Window Rock, it was always at the Navajo Nation Council Chambers and we didn't have that many people," Francisco said. "We would have to invite the delegates to come and speak and that's the only way they would come out of the council chambers."
Since moving the route for the marchers from the starting point at Karrigan Day Care in St. Michaels to the Window Rock Indian Market, she said there has been more involvement from the public.
"Three years ago, we decided to march from St. Michaels to the flea market and the result was seeing more people. With the loud speakers reaching vendors and buyers, it brought out a bigger audience than we usually had," Francisco said.
Statistics of child abuse on the Navajo Nation don't reflect many other cases, which often go unreported, she said. Her advice was to report instances of abuse, even if it means reporting a family member.
"In 2004, there were more reported cases of neglect, physical and sexual abuse. The verbal abuse and medical neglect cases are reported, but they're not as high as the neglect cases," Francisco said.
The statistics for child abuse on the reservation come from Navajo Nation Division of Social Services intake systems, she said, which are instances child protective services involvement.
"This is all substantiated and investigated by social workers that, yes, this abuse is happening," she said. "I don't get statistics on how many actually become court cases and become adjudicated.
"This means that more unreported cases are higher in number than the substantiated cases of abuse," she added. "Child abuse is defined as a caregiver intentionally injuring a child, or the child suffering in your care.
"There has to be some intent behind the abuse; it's an intentional act," she said.
There are distinct differences between child abuse and disciplining your child, Francisco added. Effective discipline involves more teaching, informing your child, talking with them and demonstrating proper behavior, she said.
"It's a back and forth thing, communication between child and parent. It's more like socializing your child. Showing them the rules of society and how to follow those rules," Francisco said.
The other component to child abuse is neglect, when the parent is not meeting the child's basic needs.
"As humans, we have basic needs -- shelter, clothing, food, security, a safe place to live, nurturing, human warmth -- those are all basic needs," Francisco said. "When it comes to child neglect, those needs are being unmet."
She said we continue learning throughout our lives and the secret to fighting child abuse is getting the right information and using it. Engaging our personal wisdom in the choices we make can make a difference, she added.
"The children can't speak for themselves. As adults, we all know better, we have to make choices in the best interest of the children," Francisco said.
(Rick Abasta is the Public Information Officer for Navajo Housing Authority.)