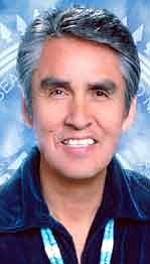 Originally Published: September 22, 2005 5 a.m.
In 1868, after four horrendous years of captivity at HwŽŽldi, seeing half of our people there die of starvation, disease and heartache, our leader Barboncito held to one significant truth: his people wanted to return to their own country.
While other tribes at the time were loaded onto trains and shipped like cattle to Oklahoma and Florida to clear the West for the foreigners, somehow it was the Navajo people's destiny to return to the land where the Holy People meant us to be, within our four sacred mountains.
Through the clarity of their thought and the beauty of their words, these treaty signers--some of our most revered leaders ever--obtained and left us all a gift of a homeland. It began with 3.3 million acres and, over time, leaders who followed helped make it grow to more than 17 million acres that the world knows today as the great Navajo Nation.
In 1994, new leaders on the Navajo Nation Council sought to continue what Barboncito and those others began--to ensure that the Navajo people would always have a homeland, to make it whole, and to see it grow. They did this by creating the Navajo Land Acquisition Trust Fund.
This sacred trust fund was created through foresight to enable the Navajo people to consolidate checkerboard areas, expand our boundaries, obtain land for economic opportunities, home sites and grazing. Most of all, it was designed as a way for our people to regain their aboriginal homeland. That was the vision.
Over the past 10 years, a percentage of every dollar the Navajo Nation has earned has gone into this fund like a savings account. The idea is to build up enough money so that the Navajo Nation could buy land when it became available. Our past leaders determined that this source of money be a trust fund so it would always exist for this one specific purpose.
They designed it so that 90 percent of the investment income it earned, rather than all of it, could be used. Today, the Land Acquisition Trust Fund holds a principal amount of $37 million. Still, only $5.4 million in investment income is actually available to use. That's not much today. But in another decade, there will be enough in the fund to use at least $10 million a year, every year, to buy land.
As every Navajo knows, land is precious, land is sacred. It provides for us and surrounds us with beauty. It is in our prayers and in our songs. It is the bedrock of our sovereignty and strength. It is so important to us that our sacred mountains and everything within them--our livestock and our corn--is seen in our tribal seal, and is protected with 50 arrowheads.
The Land Acquisition Trust Fund is one of the most sacred pieces of legislation our leaders ever created to protect the people's money and safeguard their future because it was meant for land. Yet today there are some on the Nation's Council who would drain this account, divide it up, and give a piece to each of our 110 chapters without any plan, any vision.
Yes, our chapters and our people have needs, great needs. My administration has presented a Capital Improvement Plan to provide for those needs that would leave this sacred fund alone. So far, some on our Council have shown little interest in that and have found political reasons of their own to covet the Land Acquisition Fund. This our people should not allow them to do.
All of our culture and traditions have their source in our land. From our morning prayers at dawn to the storm patterns on our Navajo rugs, from our mud-covered hogans to our beloved livestock and cornfields, it all comes from the land. Whether a female or male rain falls, our thought always turns to how it affects our land. From the springtime's first thunder to the fall's first dusting of snow, from the winter's sweet smell of wood smoke or the summer rain on sand or sage, we relate to the cycles of our Navajo world through our land.
Everyone who has ever followed the sheep to the windmill thinks of our land in this way, and that patch of land they are from is more sacred to them than any other. It is who they are and what they are made of.
Prior to creating the Land Acquisition Fund 10 years ago, the Navajo Nation experienced problems when it came to buying land. Money for land purchases was taken from the general fund. Services to our people had to be balanced against our need or desire for available land. The Land Acquisition Trust Fund was designed to correct the errors of the past and to sustain our people in the future.
Why shouldn't we just waive the law that created this fund, declare $33 million as surplus money and, without making it available to the other branches of government, allow the legislative branch to use it however it wishes? I believe for the same reason our elders taught us that we could sell a few sheep but that it would be foolish to sell the entire herd. Without the herd, what would there
be to live on, to reproduce or to plan for the future? Without the herd, a family would starve and have no future.
The Land Acquisition Fund is like the herd. It's designed to use some but not all. It's designed to grow for future generations to use and prosper. That is the reason our past leaders created it in the first place. They knew that as long as there were Navajo people, the nation would need more land. In their wisdom, they created a way to acquire it. What would they think of our current legislators' desire to cash in their vision like a pawn ticket?
Those who want access to $33 million from the fund have tried and failed five times in the Nation's Council. In their last attempt, they tried to attach an amendment to our nation's 2006 comprehensive budget, but again failed to get the required number of votes to see it pass. In our way, we do things four times and let it be. That is what these Council Delegates should now do.
Today, the Navajo population is 300,000 citizens strong. In another decade, we'll be one million strong. We are a young nation, with young citizens, and the fastest-growing population in the United States. Without more land, where will our people go? We will lose our young people to the cities. They will be forced away from their own country. More than 137 years ago, that is what Barboncito did not want.
If we allow some Council Delegates to drain the Land Acquisition Fund, we won't have the opportunity to provide for ourselves when land becomes available. Stand with me and those delegates who want to preserve the Land Acquisition Fund for its intended purpose, and honor the vision of our past leaders. Like the rainbow that surrounds us, this fund will help keep the Navajo Nation strong.