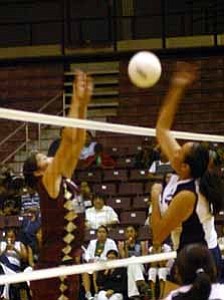 Originally Published: September 14, 2005 5 a.m.
The Winslow High School volleyball team lost its first two matches of the season. On Aug. 30, the Lady Bulldogs dropped a set to Round Valley in Eagar two games to none. On Sept. 6, Winslow hosted Window Rock and lost the set two games to one.
Scores of the Round Valley games were reported to be 25-21 and 25-17 in favor of the Lady Elks.
Winslow defeated Window Rock 25-17 in the first game of that match, but lost the second by an identical 25-17 score and fell 25-19 in the third and decisive game.
Coach Jim Keller has a very young squad with only two players having varsity experience. The roster includes Chelsea Begay, Victoria Curley, Audrey Jodie, Shalane James, Antoinette Pogue, Jana Manygoats, Shae Charlie, Adriana Riggs, Arveda Yazzie, Brayannnen James, Tara Tsosie, Rochelle Roanhorse, Adrienne Dickson, Narla McCurtain and Amber Nelson.
Winslow was to host Snowflake on Wednesday and participate in the Coconino Invitational at Flagstaff and host Greyhills on Tuesday.
The Lady Bulldogs will play in the 3A East Region Invitational Tournament on Friday and Saturday and meet Hopi at Polacca on Tuesday, Sept. 20.