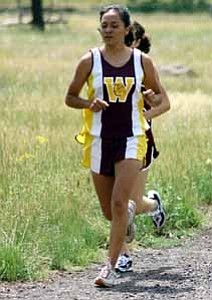 Originally Published: September 7, 2005 5 a.m.
Senior Janeen Yazzie's eighth place finish helped the Bulldogs girls' cross country team place seventh overall in one of the state's most challenging races - the Peaks Invitational.
Flagstaff High School hosted the annual event, which grew again this year to include 52 teams in six 5K runs at Buffalo Park.
Organizers split the event into two races to make competition more equal. The Bulldogs' coach, Sal Hernandez, put his teams into the tougher race, the Summit, which includes some of the top teams in every division in Arizona.
Runners with slower qualifying times competed in the Ascent race.
Yazzie actually earned six points for the Bulldogs since two girls that finished ahead of her ran as independents.
Senior Kari Hardt took first with a time of 19:35.8 but was the only representative for Queen Creek High School.
Yazzie finished at 21:23.4, followed by teammates Elisha Billie (36th) at 22:53.2, Chaunasea Singer (59th) at 23:46.7, Shylah James (67th) at 23.57.1, Janice Thompson (89th) at 24:39.4 and Kelly Saganey (106th) at 25:31.
With two top 10 runners, Xavier Prep won the Summit with 117 points. Chinle finished second (121 points), followed by Flagstaff High School (129), Page (130), Catalina Foothills (148), O'Connor High School (150) and Winslow (241).
The boys' team failed to place all five of its runners so did not figure into team scoring.
However, junior Kyle Whitehair was the 19th runner to cross the finish line and did so in 18:07.7.
He was followed by O'Leary Yazzie (73rd) at 19:58.4, Wilburt Barton (74th) at 19.59.3 and Derek Schultz (76th) at 20:00.9.
Page continued its dominance this season with all six runners placing in the top 14. Page ran away with the victory logging just 36 points. Chinle finished second with 119 points.
Tuba City was third (136), followed by Northland Prep (172) who had the top runner, Tolan Thorton (17:00.5).
Holbrook's girls team placed 18th (446 points) and the boys placed 20th (515).
Hopi Invitational
The Page High School cross country teams won both the boys' and girls' meets at the Hopi Invitational Cross Country Meet held at Polacca on Aug. 30 at Polacca.
The Winslow High School boys finished sixth while the Winslow girls were fourth.
The Page boys won with a low score of 21 followed by Chinle with 74, Hopi with 115, Tuba City with 122, Ganado with 156, Winslow with 193 and Window Rock with 211.
The Page girls won with a low score of 67 followed by Ganado with 73, Chinle with 100, Winslow with 116 and Hopi with 120.
Dono Tsinniginnie of Page was the medalist in the boys' meet with a time of 17:05. He was followed by Nathan Lee of Page, Weston Jones of Red Mesa, Antonio Smith of Page and Levi Lomeland of Page.
Winslow's best finish was 11 by Kyle Whitehair with a time of 18:16. Derrick Schultz of Winslow placed 20th with a time of 20:20. Wilburt Barton of Winslow finished 44th, Eric Navima was 45th and O'Leary Yazzie was 53rd.
Katrina Lee of Page was the medalist in the girls' meet with a time of 20:52. She was followed by Tiffany Sorrel of Window Rock, Marilynn Curley of Ganado and Adrian Madman of Page.
Janeen Yazzie of Winslow was fifth with a time of 22:12. The next four finishers were from Winslow. Elisha Billie was sixth with a time of 23:42, Chaunasea Singer was seventh with a time of 24:51, Mary Ricks was eighth with a time of 24:57 and Janice Thompson was ninth with a time of 25:12.
The Bulldogs host Blue Ridge, Ganado, Holbrook and Snowflake today at 3 p.m. The teams travel to the capital of the Navajo Nation on Friday for the Window Rock Invitational.
More like this story