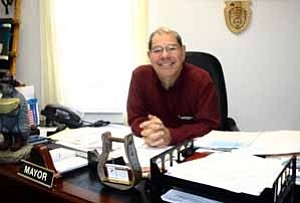 Originally Published: September 7, 2005 5 a.m.
Winslow voters will decide on Nov. 8 if Mayor Jim Boles keeps his job or is replaced and that's just the way he wants it.
"It's up to the folks of Winslow," he said. "I've stated all along since I was first electedŠ I made two promises: to do my best and work at it full time. The citizens put me in and when the citizens decide it's time for me to go, I'd honor that."
Boles said he doesn't have an axe to grind with his election opponent, Allan Affeldt, or the citizens who signed the recall petition to have him removed from office.
Boles has served as mayor since June 1994 and stands by the progress the city has made in that time.
"When I first became mayor, there was a moratorium on sewer hookups, nothing had been to the streets in a while," he said. "Now our infrastructure is the best it's ever been and that's due to the Council and staff working together."
During his 11 years as mayor, Boles has used his position to lobby other government agencies for support for Winslow and the surrounding region.
"Many forces outside the community have an interest in what goes on in this community," he said. "That's why we had the State Transportation Board and others. You do that for a reason ‹ you want these folks to do something for Winslow. Better relationships mean better chances of being heard."
This is the second time Boles has faced a recall. In May 2002, upset over a garbage toter issue, members of the community sought to have all six Council members and the mayor recalled.
Three of the Council members at that time were unopposed and the others defeated their opponents to keep their seats. Boles also defeated his opponent, which was Council member Judy Howell, who filed the petitions to have them all recalled.
When Boles was reelected in 2004, his only opponent was write-in candidate Robert Carr. Boles received 545 votes to Carr's 370.
The petition handed in to the Navajo County Elections Department in May contained 310 signatures to recall Boles. The department found 61 signatures were invalid on the petition.
Boles has often been the target of criticism in advertisements, most often by the group known as Citizens for the Improvement of Winslow. Boles would respond in kind with the arguments and personal attacks spilling into City Council meetings.
Boles contends his critics are just engaging in negative campaigns.
"The most disappointing thing is the efforts of a very, very few people who wish to not necessarily move their agenda, but be disruptive to anything this city tries to carry out," he said. "The ends do not justify the means."
As for the criticism from his election opponent, Boles defended his ability to be an effective leader by saying that city projects often take time before the benefits become obvious.
"If you're not thinking, five, ten, fifteen years in advance, if you're not planning for after you're gone, you are not an effective leader," he said. "One thing I think is in my best interest is that I don't have a conflict of interest in anything the city does so I can make decisions based on the best interest of the entire community."
Boles said he plans to help the victims of Hurricane Katrina by way of his campaign.
"Every dollar I spend on any kind of campaign advertising, I will give a second dollar to the hurricane disaster relief fund and I publicly challenge my negative fan club to do the same," he said.
He said he would not turn down an opportunity to engage Affeldt in public debates if they were organized.
Win or lose, Boles said he knows he has upheld his two promises to the citizens.
"I set out from day one that at the end of my tenure that I don't want a monument with Jim Boles on it," he said. "I don't plan to look back with regrets. I've done what I pledged to do."
More like this story