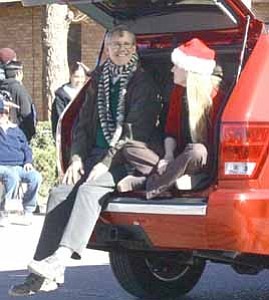 Originally Published: November 30, 2005 4 a.m.
Allan Affeldt and Stephanie Lugo were officially sworn into office during the Nov. 22 council meeting.
Affeldt defeated Mayor Jim Boles 1,032 votes to 753 votes in the Nov. 8 recall election. Lugo defeated Councilwoman Judy Howell 961 votes to 777 votes.
Following administration of the oath of office, Affeldt noted that he was "deeply grateful to the council, mayor and the city for the confidence invested in me."
During council members reports, Boles congratulated both Lugo and Affeldt.
"I am thankful for the privilege that I have been given for the past 11 and a half years," said Boles. "It has been an honor to serve as mayor." He thanked the councils that he has served with and the staffs that he had previously worked with.
In other action Nov. 22, the council:
* Approved payment to Brown and Brown of Pinetop in the amount of $1,586.04 for legal services performed during September in conjunction with the Little Colorado River Adjudication process.
*Authorized repairs to a Caterpillar loader and approved payment of not more than $4,000 to Empire Machinery in Show Low.
* Rejected the lowest bid of $14,510 from Babbit Ford in Flagstaff for a pick-up truck for the parks department and awarded the bid to Cake Car Company for $14,813.40.
* Approved the canvass of the votes and election returns for the special election held Nov. 8.