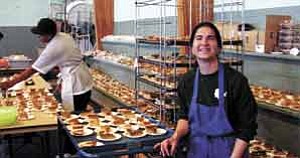 Originally Published: November 23, 2005 4 a.m.
Tuba City -- It's an annual community event, the St. Jude's Soup Kitchen Thanksgiving Day Dinner.
Its principal organizer is Ann O'Connor, who is by day, a speech pathologist and also tireless community worker proud of her hometown, Tuba City.
O'Connor gets everyone in town to help prepare and serve this special meal and this year was no different.
Students from Tuba City High School and Greyhills Academy High School who normally are in-town arch sports rivals, put those school differences aside to help with their elderly and in-need community members. These students helped roast, carve and serve 20 turkeys, baked 72 pies, and shredded mountains of lettuce for the cranberry relished topped salads.
But businesses in Tuba City also pitch in, Kentucky Fried Chicken prepares all the mashed potatoes and gravy, Pizza Edge helps buy the turkeys, the Mormon Church and its members help with the local canned food drive, as well as loaning the numerous tables and chairs to seat the entire crowd.
Navajo Tribal Utility Authority in Tuba City annually makes buckets of their special sweet cranberry relish, and St. Vincent's in Phoenix also donates food items to be served this day.
The volunteer list is long and includes just about every public institution in Tuba City.
Community Health Ser-vices, Social Services-Tuba City, the Bureau of Indian Affairs, CACY (Community Action for Children and Youth) the Upper Village of Moencopi-Hopi Tribe, Church of Latter Day Saints will collect turkeys and food item for 75 food gift baskets that will have a turkey and all the trimmings for families who have been referred to the soup kitchen Tuba City for assistance during the holidays.
The meal was enjoyed by an intergenerational community crowd. There were great-grandchildren with their great-grandparents, old time school friends and longtime Tuba City neighbors, just giving thanks for this special community day.
(Rosanda Suetopka Thayer is Public Relations Director for Tuba City Unified School District.)
More like this story