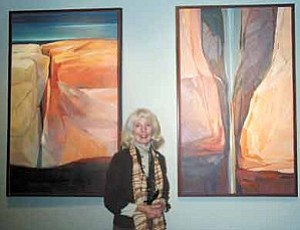 Originally Published: November 16, 2005 4 a.m.
FLAGSTAFF -- Joella Jean Mahoney, who has spent the last 50 years painting scenes from the Colorado Plateau, wants to share her artistic legacy much in the way Museum of Northern Arizona co-founder Mary-Russell Ferrell Colton did.
Mahoney's exhibit of 33 pieces, a "Passionate Vision" opened at MNA Sept. 17 and continues through Jan. 29. Her work captures the essence of the Colorado Plateau landscapes and fuses the geological, the emotional and the spiritual soul of the region. Her large dramatic landscapes in oil are inspired by the spaciousness of northern Arizona's and southern Utah's vividly colored terrain.
"I was from Chicago, by way of California," Mahoney said. "I saw Arizona for the first time when I stepped off the train in Flagstaff to attend college. It was dawn. The stars overhead were like lanterns, the sky was crystalline and in the distance the mountains were like cardboard cutouts. The sun came up and turned the scene into Technicolor. I saw a landscape that matched how I felt inside and I stepped into my future."
Mahoney graduated from Arizona State College, now Northern Arizona University, in 1955 and has a master's in fine arts in painting and drawing from Claremont Graduate University in Claremont, Calif. She is Professor of Art Emerita at the University of La Verne in California.
"Joella Jean Mahoney is one of the most important artists of the Colorado Plateau," said Navajo fashion designer Arista La Russo. "Through her use of color, she evokes in the viewer an emotional response to the beauty of my homeland."
Her work has become internationally known through the Art in the Embassies Program, sponsored by the U.S. State Department and through numerous exhibits, including an annual New York show and 30- and 40-year retrospectives at the Northern Arizona University Fine Art Museum, the West Valley Art Museum in Phoenix, the University of La Verne Art Museum, and The Kolb Studio at the Grand Canyon. Mahoney is represented by Arte-Misia Gallery in Sedona, Arizona and the Red Stone Gallery on the web.
"When I arrived here in the 1950s, I traveled in a Willy's Jeep station wagon when all the roads were sand tracks," Mahoney said "I was sorry to see the pavement come."
She has spent decades hiking and backpacking in to capture small images in water color, oil pastel or oil paint in areas such as Monument Valley, the Vermillion Cliffs, Paria Plateau, Zion National Park and the Hopi Mesas.
"My big paintings, I invent in my studio from my experience of being in a place and making a small realistic painting of it." Mahoney said. "Seemingly endless space is a metaphor for personal freedom. Vivid colors have an emotional charge that I relate to human emotions. My paintings blend both realism and abstraction as they honor the beauty of the Colorado Plateau."
Meet Mahoney
Throughout the fall, Mahoney has offered a series of presentations on her work and again at 1 p.m. on Saturday, Nov. 19 will personally lead a one-hour tour of her exhibit--free to participants with the cost of museum admission. She will discuss landscapes as motif, color and as communication as she demystifies the artistic process.
At 1 p.m. on Dec. 3, Mahoney will be at her easel demonstrating her dynamic painting technique to museum visitors, welcoming questions as she discusses how she creates a landscape in oil.
MNA Director Robert Breunig expounded on how Mahoney sees art education as a basic necessity similar to the philosophy behind the museum's foundation.
"Mary-Russell Ferrell Colton really believed that education in the arts is fundamental to all education and that the creation of art and the appreciation of beauty was essential to a good life. She wanted everyone to have a connection to art and believed that if you learned art at a young age, the appreciation of beauty would stay with you," Breunig said. "This is a concept that is very recognizable in many native cultures. They share the fundamental idea that everyone should share in the creation of beauty. They didn't always call it art. It was the material of everyday life, unlike our culture today, where art is a separate idea."
Mahoney said she welcomes art educators and students, particularly those from the Rez, to explore how themes and concepts expressed in the exhibit can be integrated into classroom curriculum and introduced to students of all ages.
"Artist Joella Jean Mahoney, who has been inspired by the work of the museum, is eager to share her passion for art and art education with teachers and students on the reservation," Breunig said. "Mahoney is a contemporary heir to the passion and commitment of Mary-Russell Ferrell Colton to art education. I urge teachers on the reservation to take this opportunity to have their students spend time with this master artist who has painted on the Colorado Plateau for 50 years."
Mahoney offers these sessions free to art educators, teachers and small groups of students from fifth-grade and up. In fact, there is a limited amount of grant funding available to provide transportation from the reservation.
Anyone interested in scheduling a session, should contact Tracy Anderson at MNA (928-774-5211, ext. 220 or tanderson@mna.mus.az.us).