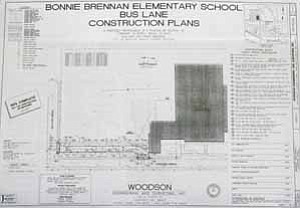 Originally Published: November 16, 2005 4 a.m.
Parents of students at Bonnie Brennan Elementary School will no longer have to worry about bus safety, as the Winslow School District Governing Board approved the engineering design for the bus loading zone.
Superintendent Bob Mansell explained to the governing board that work on an off-street bus loading site was going well and that they were ready to present it to the board.
The plan would call for the busses to enter on Cochise, pulling into a turnout on the edge of the playground, and then exiting onto Mojave.
Mansell said that if the plan was approved, school officials would be meeting with the city the following morning to get their approval.
Mrs. Diane Koch, Bonnie Brennan Principal explained the safety issues the school was facing with the present loading zone.
The design was unanimously approved.