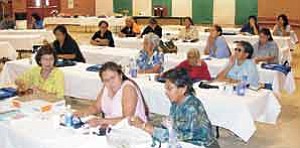 Originally Published: November 10, 2005 9:52 a.m.
CAMERON — Educating and encouraging children to move towards higher goals, greater academic achievement and positive, productive self awareness is the priority at Tuba City District. However, administrators and teaching staff recognize that this is made all the better if parents and student communities are right behind that primary focus.
So education and awareness projects are also offered for parents and community members at each of the TC District's seven schools, most recently the "Dzil Libei Elementary School" located in Cameron.
An entire day was devoted to parent learning in September, that included current information on AYP (Adequate Yearly Progress) by Richard Grey, TC District's School Improvement Coordinator.
Topic presentations were given on "Domestic Violence: Effects on Children," Kinship Kare of Northern Arizona (KKONA); Support for families raising Relative's Children," Summary of TCUSD District Goals-Objectives," by Linda Honahni-TCUSD Board President; "Positive Behaviors start at Home" by Dennis Bowen-Wellness Coordinator TCUSD, a classroom presentation in the Navajo language, by fifth graders; "Symptoms of Children's Stress and Depression" by Betty Mitchell-Mental Health Office, Tuba City hospital.
Door prizes, special in between break activities and a catered lunch provided parents the opportunity to visit with staff members at Dzil Libei School to discuss student progress and learn new methods to provide more encouragement and guidance at home for homework and learning strategies.
Community members, grandparents were also welcome to this daylong activity sponsored by Dzil Libei's Principal, Mrs. Lorna Lewis and her staff.
For more information about Dzil Libei School and its educational programs or activities, contact the TC District Office of Public Relations at 928-283-1072.
(Rosanda Suetopka Thayer is Public Relations Director for Tuba City Unified School District.)