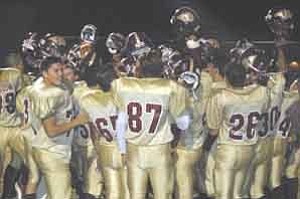 Originally Published: November 9, 2005 4 a.m.
By Sam Conner
Winslow Mail
The Winslow Bulldogs defeated the Sedona Red Rock Scorpions 42-19 in a first round game of the Arizona State 3A Conference Football Championship Tournament at Winslow on Friday.
The win improved Winslow's record to 11-1 for the season. Sedona Red Rock ended its season with a 4-6 record.
The Bulldogs got the only score of the first quarter on a five-yard run by Mark Armao with 8:21 left on the clock. The conversion kick was blocked and Winslow led 6-0.
Jordan Payne passed 30 yards to Johnny Butler to score on a fourth down play with 9:06 left in the half. Kyle Holland converted for a 13-0 Bulldogs lead. Payne had hit Butler on another 30 yard aerial in the 77 yard scoring drive.
The Scorpions recovered a Winslow fumble at the Bulldogs 28-yard line and scored on an eight-yard pass from Tommy Wyatt to Skyler Hill. Jordan Burke converted to cut Winslow's lead to 13-6 with 5:18 left until intermission.
Payne ran 65 yards to score on a fourth and one play with 2:51 left to complete a 74-yard drive. Matt Oso passed to Mario Peralto for the two point conversion that gave the Bulldogs a 21-7 lead with 2:51 left in the half.
The Scorpions took advantage of a failed Winslow gamble and drove 40 yards to score on a 14 yard pass from Wyatt to Hadi Eok with 4:37 left in the third period. The kick failed and Winslow led 21-13.
The Bulldogs broke the game open with two touchdowns in the space of 23 seconds. Dillon DeWitt plunged into the end zone from a yard out to cap an 80 yard drive with 37 seconds left. The conversion was good and the Bulldogs led 28-13. The Scorpions lost a fumble at their 20 yard line and Armao sprinted off tackle from there with 14 seconds showing on the clock. Holland converted and the Bulldogs took a 35-13 lead into the final period.
Wyatt hit Reid Watkins on an 18 yard scoring pass to cap an 80-yard Scorpions drive with 10:13 left. The conversion run failed and Winslow still led 35-19.
DeWitt ended the scoring on an eight yard run with 4:28 remaining in the contest. Holland converted and the 42-19 final score was on the board. An interception by Payne set up the short 26 yard drive.
The Bulldogs will meet the Safford Bulldogs on Thursday at Mesa Community College with an 8 p.m. kick-off slated. Safford nipped Payson 15-14 in a first round thriller at Safford.
More like this story