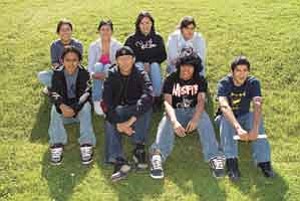 Originally Published: November 4, 2005 10:19 a.m.
TUBA CITY — Proving again that creativity is a native tradition, 10 students from Tuba City High School, including Averill Riggs, Raymondo Begay, Kirby Bahe, Ian Allison, Kaylyn Jackson, Janeen Phillips, Adriana Harvey, Natasha Dickson, Sharee Jackson and Natasha Williams along with sponsors, Jeanetta Klain and Tom Jones of TC High attended the annual Native American Writers and Artist workshop at Rough Rock High School on Sept. 26-28.
Three days of student participation in creative writing, theatre arts production and visual arts workshops with professional Native American writers, producers, actors and artists was the focus of the event.
Students were able to work in small groups with other reservation schools attending, and in some cases, work one-on-one with Native artistic professionals to help develop or hone already practiced artistic skills during this annual workshop.
In addition, during the three days, students ate together, and spent evening free time together in cross-cultural and cross school exchange all in the name of art.
For more information about the Native American Writer's Workshop, contact the Tuba City High School and ask for Netta Klain or Tom Jones at 928-283-1047.
More like this story