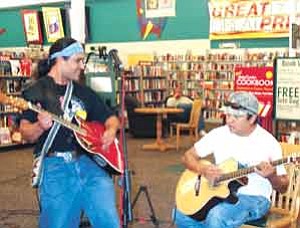 Originally Published: November 4, 2005 1:39 p.m.
FLAGSTAFF — Shawn Michael Perry was at Hastings Oct. 22 singing his heart out with selections from his new CD "Only the Brave."
These first two singles, "Freedom" and "The Indian," are already receiving extensive airplay on Native American radio stations. "Libertad," a Spanish version of "Freedom" included on the CD, is playing on several Spanish-language stations in the Southwest.
Perry wrote the songs then co-produced most of the tracks with producer and recording artist, John Avila (Oingo Boingo). OTB Recordings, a Division of Kay's 2 Inc., based in Casper, Wyo., released self-titled CD.
"Freedom" features well-known Canadian Native American traditional singer/drummer Edmund Bull. Perry said the Grand Canyon was the actual inspiration behind the song, pointing out he has been in love with the area ever since spent a long ago summer working there.
"I believe in tradition," he said. "But it has to be sufficient to keep our legacy alive."
Perry said he has always loved performing, referring to roles in films such as "The Last of the Mohicans," "Wild Bill," and "Hidalgo." But he says he has, at last, turned on to his music.
A recent highlight he mentioned was performing at the Native American Music Festival Aug. 27 with the likes of native blues great Bill Miller at the Ute Mountain Casino.
When asked what advice he'd give to aspiring musicians, Perry said, "Be honest with yourself and others. If you're good at what you do, be humble. And when on stage, take no prisoners."
Born in southern California, with ties to the reservations in the Southwest and Rocky Mountain areas, Perry said his lyrics poetically speak of the life in his soul. With this CD, he stressed that he wants to bring that joy and love to his audience.
The CD is currently available through CDBaby, select Tower Records, Hastings and Sam Goody stores as well as through the band's website, www.shawn-m-perry.freeservers.com.