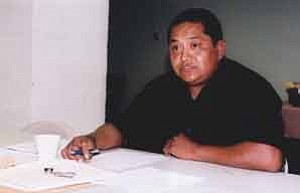 Originally Published: November 4, 2005 9:41 a.m.
Bullying was the focus of the Oct. 26 monthly PAC meeting at the Hopi Cultural Center. The group hopes to have a presentation on bullying by early Dec. The problem is that there are increasing reports of bullying at Hopi Jr/Sr High School, but there doesn't seem to be a definition of it.
While there are some clear-cut cases of bullying, there is a question of whether some incidents should be defined as bullying.
Robert Miguel, who was recently re-elected as president of PAC, said there was one parent who said that her child had been bullied at the school. This also raised the question of whether the school has too much or too little security. PAC considered sending parents a survey, but decided to wait until after they have a presenter come in about bullying.
Harvey Honyouti, dean of students at Hopi Jr/Sr High School, said every bullying accusation that has come to him has been fully investigated.
"I feel badly if someone is bullied. If someone is bullied the parents should contact me directly," Honyouti said. "In fairness to the staff, every bullying accusation that has been brought to my attention has been investigated."
Miguel said he feels there is adequate security at the school and he added that sometimes the security guards don't get the credit they deserve. He added that in the case the parent brought to him that something was done, but maybe the parent didn't consider it to be enough.
Problem, page 5
Lavonne Navakuku, parent coordinator at Hopi Jr/Sr High School, said bullying is a new issue to the schools. She questioned whether teasing is considered bullying.
"It's a fine line you draw. When a child feels unsafe, that's bullying," she said.
Honyouti agreed that bullying is a new issue for schools. He said that is the first year at Hopi Jr/Sr High School that students needed to be disciplined for bullying.
"It's a fine line and sometimes you don't want to make the call," he said. "There are some clear cases, but there are some fine line examples too."
Roger Mase, director of federal projects at Hopi Jr/Sr High School, noted that the school handbook calls for expulsion if a student is guilty of bullying. He said the school doesn't want to throw the student out if the student is not guilty of bullying.
Martha Miguel, a PAC member, compared bullying to domestic violence.
"It's there, but it's hidden," she said.
Gloria Lomayestewa, another PAC member, said that members needed to define bullying and make the students aware of the consequences.
"If they know the penalty is expulsion then they know what to expect," Lomayestewa said.
Honyouti said the principals have become more aggressive this year about addressing bullying. He said the vast majority of bullying complaints are at the junior high school—not at the high school. He emphasized that the bullying complaints involve a tiny portion of the students.
"We have a safe school, but this is more in the limelight because we're not afraid to discuss the issues and publish what goes on," Honyouti said. "We want to remember that the most important point is the safety of the children."