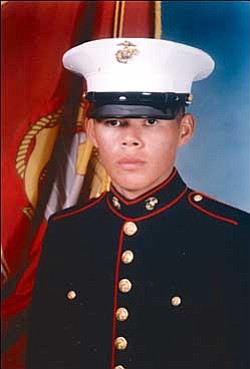 Originally Published: May 11, 2005 1:16 p.m.
Marine Pfc. Jerold Roy Begay graduated from boot camp at the Marine Corps Recruit Depot in San Diego on Oct. 29, 2004. He completed 21 days of Marine combat training at Camp Pendleton in northern San Diego County.
After boot camp, Pfc. Begay completed 12 weeks of training from the Nuclear, Biological and Chemical Defense School at Ft. Leonard Wood, Mo., becoming a NBC specialist. The course outline consists of detecting NBC attacks, plotting NBC attacks and decontamination of troops, equipment and weapons.
Pfc. Begay's parents are Marylou and Elroy Begay of Bodaway/Gap, Ariz. and Coppermine, Ariz. Pfc. Begay is a 2004 graduate of Page High School.
Pfc. Begay is stationed with the first Marine Air Wing at Okinawa, Japan.