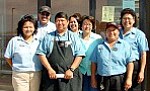 Originally Published: June 29, 2005 5 a.m.
We see them everyday, but not just in the grocery store. These local Basha's store staff members are our neighbors, friends and relatives.
Tuba City Dine' Basha's has been serving the western reservation for a number of years primarily taking care of its own Hopi, Navajo and Southern San Juan Paiute tribal members in Tuba City and surrounding Hopi villages of Upper and Lower Mungapi. But they also have carloads of tourists and visitors that come through the area on their way to the Grand Canyon, Four Corners, Hopi-land or Page.
All of this takes a lot of smiling, personal accommodation, answering questions and trying to service their customers quickly and professionally while extending that genuine respect of native hospitality while doing it.
Helen Herbert, Store Director, has much to be proud of this year.
Three of her immediate staff members walked away with major awards from the Basha's Corporate offices distinguishing the local Dine' Basha's store for outstanding reservation wide service.
The title of "Meat Manager of the Year" went to Jack Holiday. The "Deli Manager of the Year" to Lucy Johnson and "Community Service Volunteer of the Year" to Reva Hoover.
The local Tuba City Dine' Basha's also is implementing a new check cashing policy, which will affect all customers trying to cash checks at the supermarket.
There no longer will be check cashing at all registers.
Check cashing will only occur at the new Service Counter, which is located in the lobby portion of the front of the store.
Check cashing hours will be Sunday 12-5 p.m. Daylight Savings Time and Monday through Saturday 10 a.m. through 7 p.m.
In exchange for cashing a check, customers will receive a voucher for every one hundred dollars or any part thereafter, which are immediately redeemable in the store for one dollar with any $10 purchase.
For example, if your check is $100 to $200, you will be deducted $2 in vouchers, which can be used, on your next purchase.
Any questions regarding the new check cashing policy can be directed to Basha's Store personnel at 928-283-5250.