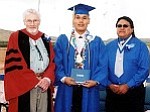 Originally Published: June 23, 2005 5 a.m.
POLACCA -- Ten Hopi High School students have left to participate in the fifth annual Harvard-Hopi summer program.
The three-week program allows Hopi High School students to study at Harvard Medical School during the summer.
The 10 Hopi High students involved in this year's Harvard summer program are Nicole Saufkie, Nicole Scott, Rhianna Tootsie, Glenndalyn Naqua-Hyoema, Desire Dennis, Walker Ami, Tamara Tacheene, Jennifer Bitsoie, Kayhayalana Joseph and Teal Jensen.
Lavonne Honyouti, science teacher at Hopi High School, said this year the students will study substance abuse and how it impacts the brain.
Honyouti said the assignment will help the students understand how to help in the community.
The academics will be rigorous as students will have two lectures a day, will have to perform laboratory work and will have to give a final presentation. The session will end July 1.
Honyouti said this unique program provides an introduction to college for students as it prepares them for the academic and social sides of college.
"It's really a great program," she said. "It's good for the students to know that an Ivy League education is attainable and it introduces them to another part of the world."
Dr. David Potter, a professor of neurobiology at Harvard Medical School, praises the Hopi-Harvard summer program and especially the Hopi High students.
Dr. Potter said everyone at Harvard whose been involved with the summer program is impressed with the Hopi High students and hopes the program continues on a long-term basis.
Dr. Potter credits former Hopi High governing board member Wallace Youvella Sr. with coming up with the idea for the program.
"The original motivation was to show the students that they could go on to get whatever education they want in their future, and I think we accomplished that," he said. "This shows them that their chance to get in college is just over the horizon."
Dr. Potter added that this shows high hopes for the future of the Hopi Nation because there is a certain role for those with a higher education.
Dr. Potter said Harvard has only taken a token responsibility for helping Native Americans in the past, but with this program he feels they have an
amazing opportunity to do something good.
Honyouti said studying at Harvard is eye opening for students from the reservation because it's in a big city, and it has a culture that's all its own.
Honyouti praised Harvard professors David Potter and Edward Furschpan for making the summer program financially possible by obtaining grants from the National Institute of Health. Potter recently obtained a $250,000 three year-grant from the Science Education Partnership Award through the NIH.
"I can't say enough about them. They're outstanding people who made this program happen," Honyouti said about Potter and Furschpan. Honyouti said Dr.; Potter has used his own money to help minorities get into Harvard Medical School. She said Harvard Medical School recently had its first
African-American and Hispanic-American students.
"Now we're trying to get our first Native American student (into Harvard Medical School)," she said.
Hopi High students originated this program five years ago, but since then a couple other schools have joined. Thus, the Hopi High students will have a cultural exchange with Hawaiian high school students while at Harvard.
The Ft. Peck Tribe from Montana and the Wampanoag Tribe from Cape Cod have also become involved in the Harvard summer program.
It won't be all work for the Hopi High students as there will be a little time for deep sea fishing, whale watching and sight-seeing.
(Stan Bindell, former Observer editor, is journalism and radio teacher at Hopi High School.)
More like this story