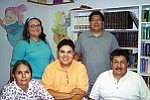 Originally Published: June 23, 2005 5 a.m.
TUBA CITY -- Vision and advocacy for Tuba City and Moenkopi youth was the main theme shared on the evening of June 1 as the newly appointed Board of Directors took the helm of the Itaatunatya Youth Organization (IYO), also known as the Tuba City/Moenkopi Youth Organization.
The new Board of Directors includes Board Chairperson Robert Charley, employed with The Hopi Tribe in the Office of Real Estate Services in Kykotsmovi; AZ; Board Vice Chair Arvis Myron, with the Tuba City Unified School District (TCUSD); Board Treasurer Davis Tallas ofTuba City Regional Health Care Corp.; Board Member Joshua Lavar Butler, with Northern Arizona Council of Governments; Board Membe Esther Honeyestewa and Board Member Cheryl Pooyouma, with TCUSD.
IYO has been in existence since the early '90s and has since grown into a community based youth program that has served thousands of school age children with no particular age limit. IYO also provides activities and services to the adults and the elderly of Moenkopi.
The main focus of IYO is to bridge the generation gap between the young and the old. Certain IYO programs have involved both generations in a successful attempt to teach the Hopi language and culture for example.
IYO administers several multi-social service programs that benefit the entire community of Tuba City and Moenkopi. A few of the many programs include the J Bar K Equestrian Program which is coordinated by Ronald Begay, TCUSD director of Support Services, Tai Kwan Do classes, art classes and the Hopi language immersion program.
In addition, the Tuba City/Moenkopi Youth Center also operates an after school program for school age children, a well stocked library, a computer lab with internet access, intramural sports and many other programs. These youth focused programs are offered to all area youth, with no restrictions on ethnicity. IYO is gradually expanding their programs and service area.
Renee Archambeau, IYO youth coordinator/program director, stated that the youth organization has expanded drastically in the last few years. IYO had initially serviced the Hopi youth until the center noticed that Hopi children gradually started bringing their non-Hopi friends from school. This prompted IYO staff to seriously consider expanding programs to accommodate the diversity reflected in Tuba City and Moenkopi.
What had started as a community centered youth program, has grown into a regional youth program that services the Hopi village of Moenkopi, Tuba City and surrounding areas. According to IYO Treasurer Davis Tallas, the IYO program was the first youth program started on the Hopi Reservation. IYO was the leader and pilot program for other Hopi youth programs that have since opened in other villages across the Hopi Reservation.
IYO was once a vision for the village of Moenkopi until a group of concerned village members, with Tallas leading the pack, put their words to action and acquired a building that was once a Mormon church. Tallas certainly went against the status quo and accomplished what was never done before. He overcame many bureaucratic obstacles to launch the youth program off the ground. Tallas, one of the founding members of IYO, continues to push his vision of providing a safe place for all youth and community members.
Archambeau said she and her staff are very excited that the summer programs have successfully started and hopes that additional funding will be acquired to operate additional programs. IYO has recently concluded its 2005 fiscal year and have created an operations budget based on the recently approved funding for fiscal year 2006.
"We hope to expand our current programs as well as our service area, in order to accommodate the drastic influx of daily participants," Archambeau said. "Funding is certainly a huge issue and we hope to acquire additional funding through the assistance of the Village of Moenkopi and through the assistance of an independent grant writer who has already been hired on as a consultant."
For more information or to become a volunteer with the Tuba City/Moenkopi Youth Organization, call Renee Archambeau at 928-283-8062. In-kind donations and monetary contributions are very much appreciated, and can be sent to: Itaatunatya Youth Organization, P.O. Box 1632, Tuba City, AZ, 86045, Attention- Renee Archambeau.
More like this story