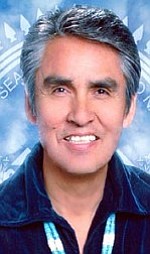 Originally Published: June 23, 2005 5 a.m.
Etched into the collective memory of every Navajo alive today is the terrible trauma of the tragedy that began at Bosque Redondo -- HwZZldi -- 141 years ago.
It doesn't matter that we who are alive today were not there at that time. The stories continue to come down to us, and those stories keep what happened alive.
Nearly a century and a half ago, it was us -- the Navajo and Mescalero Apache people -- who were the victims. This is our shared history which no one disputes or denies.
The period known as the Long Walk, and our brutal imprisonment at Fort Sumner, marked us. It scarred us. It hurt us terribly and deeply, like nothing before, like nothing since. Like a blood stain over an entire people, it indelibly changed us from who we were in the 1800s to set the stage for who we are today.
Five long years of onslaught by the U.S. military transformed the Navajos of the early 1860s. A reign of ruthless brutality turned a strong, proud, completely independent and self-sufficient people into helpless, destitute, starving prisoners and refugees hidden in distant canyons.
A people who were rich among themselves, who built, made and grew everything they used, and who taught their children everything they knew as they had for countless generations, were reduced to pitiful shadows of human existence through a moving campaign of death and destruction.
This is our history. And this is why we call the Long Walk the Navajo holocaust. Yet the determination and resilience that made us strong, proud and feared before 1863 is what got us through this fearful time.
Although our people were murdered by soldiers before our eyes, tortured, starved and poisoned by disease before our eyes, our leaders' yearning remained resolute.
"Let me return to my own country" rings like an anthem in the ears of Navajos even today.
Despite our weakness, our illness and our pain in early 1868, our people wanted only to go home -- not to Oklahoma or Florida, but to our own homeland. They would limp there, crawl there, scratch their way back there.
Just let us go home!
Ever since, many have asked how Navajos endured that incredible hardship.
It was our prayers, our ceremonies, our ancient way of life that brought us back from the precipice of genocide. That way of life is still a part of us today although we lost many of our songs, ceremonies and medicine men during that terrible time.
In their ignorance, it was this way of life that the foreigners feared and hated about us. They attacked it and attempted to eradicate it. Our sacred songs and prayers, so central to who we are, healed us -- and heal us still -- and led us back from our imprisonment at the place of suffering.
Right now, all across Navajoland our ancient songs and prayers are being said. Navajos use this knowledge to heal themselves from this historical trauma even now. It takes a long time to heal. This is what we are still going through as a society, and this is what brutality does.
Today, the United States military -- once our sworn enemy -- is committed to fight terrorism around the world wherever it finds it. Our young Navajo men and women are among those on the front lines helping through their military service.
Alongside their brothers-in-arms, they battle to protect this sacred American land and our sacred Navajo way of life, and always have in every American war. Once again, it will be our sacred songs and prayers that bring them back from Afghanistan, Iraq and elsewhere, and it will be our songs and prayers that will heal them.
Once cloaked only in our poverty, riddled with weakness, illness, hunger -- with nothing, with only rags to cover shriveled bodies -- the surviving Navajos walked out of that Valley of Death and Despair called Bosque Redondo and came home.
They brought with them -- in their hearts and minds -- this piece of paper called the Treaty of 1868. In that paper, Navajos promised never to raise up arms again against the United States, even though we had been forced to for our own homeland security.
Like our other Native American brothers and sisters of that time, no more were we to be the independent and self-sufficient people of before. From then on, the United States wanted to have control over us, over our land, over the education of our children. The United States systematically tried to transform Navajos into brown White men.
We were sent to re-education camps called boarding schools where our children were reprogrammed to replace the Navajo language from their minds and remove the Navajo culture from their hearts. In the guise of helping, the United States even provided us with a form of tribal government that we used in many instances to oppress our own people. We must always beware that the oppressed not become the oppressor. Sadly, this is our history.
But that is not the whole picture. The same resiliency that saved us from that
wretched place Navajos called HwZZldi lives within us now. Navajos are
reclaiming our sovereignty, and we see this today.
Yes, while it has taken us 141 years and we still bear scars on our souls and
minds, we remain the determined people so feared in the 1800s by outsiders
who didn't understand our culture.
No longer do we have the Bureau of Indian Affairs monitor our deliberations
within the Navajo Nation Council. No longer do we sit idly by to let the
United States tell us we will have deadly uranium mining on our land. No
longer will we allow states to outlaw the teaching of the Navajo language to
our children in schools. No longer will we be silent as others defile our most sacred mountains.
The Navajo people today assert their sovereign right to make their own lawsand live by them, to seek the respect of other governments and receive it, and to meet with the leaders of other nations as their sovereign equals and partners.
The DinZ are resilient. They are determined. They are proud. They are intelligent. They are creative. They are visionary. They are caring. Like no other people I know, Navajos love their families, their clans and their people.
Like no other tribe in this country, over these past 141 years the DinZ brought themselves back from destitution, although we still have hunger andpoverty in our land. We have grown in population. Our lands have expanded.
With great effort and fortitude, we have labored from a state of total dependence and desperation to a place of increasing wealth and self-sufficiency.
My people have embraced the best of the White man's way and made it their
own. This year, 8,000 Navajo students graduated from our high schools, and
hundreds graduated from colleges and universities.
In another decade, Navajos with master's degrees and doctorates will number
in the thousands. What will this world be like when countless Navajos --
descendents of the Long Walk -- are received around the world as
professionals and addressed as doctor?
Indeed, it has been a Long Walk. Yet as I look around today, I see that Navajos are still here. Our language is still here. Our culture is still here. We, as a people, continue to be. My prayer is that 100 years from now, 500 years from now, even 1,000 years from now, DinZ people will still be here. Even then, a Navajo will proclaim to the Holy People, "I am here!"
If the Bosque Redondo Memorial to the Navajo people and children who suffered and died marks a purpose greater than remembrance, it is that DinZwill continue to survive, endure, grow and prosper until the very end of time.
That is how it should be.