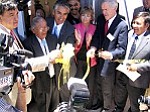 Originally Published: June 16, 2005 5 a.m.
BOSQUE REDONDO, N.M. -- The memory of the most painful period in Navajo history drew hundreds of Navajos here June 4, including Navajo Nation President Joe Shirley Jr. and First Lady Vikki Shirley.
They came for the opening of the Bosque Redondo Memorial, which pays respect and reverence to the terrible Long Walk and imprisonment of Navajos and Mescalero Apaches from 1864 until 1868.
"Fort Sumner does not hold very good memories for the Navajo people," President Shirley told the silent crowd gathered on the east lawn of the memorial. "Many of our people died while being herded here, while being prisoners here, and upon our travel back after we had been released."
New. Mexico Governor Bill Richardson said this was the first phase of development of the memorial. Still, he added, it was long overdue.
"It should have happened long ago," the Governor said.
He said the 6,300-square-foot memorial was finally built because of "the spirit of the descendants who refused to let the memory die."
If anything, he added, the new memorial respects the cultural differences of New Mexico and remembers its ancestors with the grace and dignity of its Native people.
In 1969, the memorial site was declared a New Mexico State Monument. Plans for an actual memorial went nowhere until House and Senate memorials in 1992 and 1993 when Rep. Watchman and Senator John Pinto sought a site at Fort Sumner to commemorate the Long Walk.
"This place can never be celebrated," President Shirley said. "Hatred was born here. As long as there is hatred in the land, we must forever keep vigilant that it does not consume us again and that, because of it, we prey on one another.
The President said Fort Sumner was a place where Navajos were "challenged and tested, and we survived."
"As a people, we cannot stop being," he said. "We were almost obliterated from the face of the earth. If we should ever give up on the fight to be, the sacrifice and the loss of our forefathers would be for naught. I do not know of anything worse than purposely killing families and doing away with a nation, but it happened here, and along the way to here and back to the Motherland."
New Mexico Lt. Gov. Diane Denish said the four years of imprisonment for the Navajos and Mescalero Apaches "is a dark chapter in our nation's history."
She said Fort Sumner was "a brutal prison camp that the United States called a reservation." She asked that everyone pledge that this kind of hatred and racism never be allowed again.
U.S. Sen. Pete Domenici, noting the fair, cloudless weather, said, "I guess it wasn't so beautiful when Navajos and Mescaleros were herded here and kept here."
Soon after the Senator began to speak, a Navajo woman, whose cries preceded her, walked through the parting crowd to approach the podium where the senator was speaking, interrupting him.
Nicole Walker of Window Rock, who had trudged down U.S. 84 to the dedication ceremony, her head and body covered in a Pendleton blanket, made a wailing cry into the microphone, feeling the pain of her ancestors who suffered here at HwZZldi, the place of suffering, which Fort Sumner has been known as to Navajos.
"I know our relatives are here," she said through her cries. "We made it. We made it! You Navajos out there should be proud."
When Sen. Domenici resumed, he said he had "a very sad heart, a very heavy heart."
"Navajos should have the opportunity to make up for what happened here," he said.
U.S. Sen. Jeff Bingaman said the dedication of the memorial was appropriate five days after Memorial Day.
"This is an occasion to remember a tragic chapter in our history," he said.
As a nation, the United State has acknowledged the true facts of its history with this dedication, he said. He noted that the Department of Defense had contributed $2 million toward the construction of the Bosque Redondo Memorial to help the Navajo and Mescalero people "rebound from the suffering" they underwent here.
Calvert Curley, who represented Congressman Tom Udall, said the congressman has drafted legislation to study the historic route used to drive Navajos to this place.
"It's because of our ancestors who paid a price for us to be here today," he said.
(George Hardeen is Navajo Nation Communications Director.)