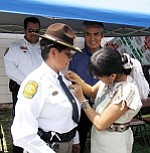 Originally Published: June 9, 2005 5 a.m.
WINDOW ROCK -- With her parents, husband and three children looking on, a former waitress and dispatcher, was sworn in May 27 as the Navajo Police Department's first woman captain.
After 28 years of rising through the ranks, Lt. Ronni Wauneka, accepted her captain's certification from Navajo Nation President Joe Shirley Jr. and had her new captain's badge pinned on by her daughter Devennie, a senior at Sarah Lawrence College. She was administered her oath by Chinle District Court Judge Leroy S. Bedonie.
"For the first time in the history of the Navajo Nation, a lady is being promoted to captain," President Shirley told about 100 people gathered for the special ceremony. "She is a person with heart. She is a person who has always been there for the people and has always been there for the troops."
The President praised Capt. Ronni Wauneka for her long and dedicated career. Most recently, he said, she was one of the commanders of this past winter's "Operation Hashtlish," a several month-long multi-agency emergency management operation to deal with the aftermath of heavy snows, rains and transportation problems throughout the most remote regions of the Navajo Nation. The operation officially closed out yesterday.
"We didn't lose anybody, not even any livestock," the President said. "She has proven herself over and over and over again. It's no surprise to me that she's been promoted today. Many times she has gone above and beyond the call of duty. That's the kind of person I know her to be."
Surrounded by friends and colleagues from the Navajo Nation Council Public Safety Committee, Apache County Sheriff's Department, the Arizona Department of Public Safety, Hopi Law Enforcement and numerous Navajo police officers and officials, Capt. Wauneka was congratulated for her dedicated work through the years.
"When times are tough, the phone rings and it's Ronni," said her longtime friend and colleague Apache County Sheriff Brian Hounshell. "She's a wonderful lady. She'll make a wonderful captain."
In an emotional moment, she thanked her husband Sam Wauneka Jr., whom she said stood by her through the long years of her career, raised her children, cared for her when she was gone so often on duty, and was with her again for this day. Also with her were her sons Bobby Wauneka and Sammy Wauneka III.
"I took an oath, and that's when I said I'm going to help my Navajo people," she said. "I had to be gone a lot."
But she said her husband was there with meals, to get the kids off to school, to care for her and get her out the door again to resume work through her many assignments all over the huge Navajo Nation.
Among the many people she thanked was Arlene J. Nez, the first woman Navajo police lieutenant whom she said inspired her when she once suspended her for 10 days.
Referring to Capt. Wauneka as one of his mentors, Mervin Yoyotewa of Hopi Resource Enforcement Services said he met her 25 years ago when she was public information officer for the Navajo police.
"She's a very good supervisor and knows how to work with her people well," he said.
"She always stated, 'One of these days, I'm going to be a captain,'" said Navajo Police Capt. Steven Nelson of the Crownpoint Police District in New Mexico. "These bars that she's going to be receiving today were not just given to her. She earned them. On behalf of the commanders, we give our support to Capt. Wauneka."
Acting Navajo Police Chief Bobby Etcitty, who said it was his pleasure to promote Capt. Wauneka, said she began work for the Navajo Police Dept. as a dispatcher in January 1976. In Sept. 1976, she was one of only 17 police academy graduates of an entering class of 47.
Because of her ability and discipline, she was assigned duty at Navajo police sub-stations in Ganado, Greasewood, Jeddito and Sawmill where officers work alone and often without any backup.
She was promoted to sergeant in February 1979 and her supervisory duties began. In October 1988, she was promoted to lieutenant. She's been assigned to Window Rock, Chinle, Shiprock, Crownpoint and has most recently served as acting captain and district commander at Dilkon. Her new assignment will take her to Chinle.
More like this story