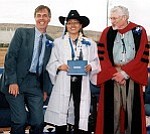 Originally Published: June 9, 2005 5 a.m.
POLACCA -- Vernon Masayesva, former Hopi chairman, called on today's graduates to solve the problems of the world.
Masayesva, serving as the keynote speaker, addressed the graduates during the May 27 ceremony.
Approximately 3,000 friends, family and educators packed into Bruin stadium for the graduation.
Masayesva, executive director of the environmental group Black Mesa Trust, said that since Vietnam there has been fighting all over the globe. He said children are dying every second from lack of clean water and food.
He said religion has been used to justify wars. He questioned what Americans would think if Iran and South Korea were doing today what American is doing (in Iraq).
"We need you to bring sense to change the world and to bring sense to the world," he told the graduates.
Masayesva recalled a Hopi farmer who said the three most important things were an ear of corn, a gourd of water and a planting stick. He said the ear of corn is food for the body and soul. The gourd of water shows that water is finite and shows the importance of water. The planting stick is a tool that must be used wisely.
He emphasized that all three must be used together because if any one is left out it hurts the project.
Masayesva said science and technology must be used wisely, but he said this is not the case in America where a few control the wealth.
"Terrorism is the fruit of our greed," he said.
Hopi High Principal Glenn Gilman introduced Masayesva by saying that regardless of people's politics that 2005 is a pivotal year for water and mineral decisions on the Hopi Reservation.
Masayesva said Hopi is at a crossroads where choices can result in oblivion or a healthy vibrant society.
Masayesva also recounted his days in high school when ducktails, bobby sox, Johnny Mathis and Elvis were big.
"I remember singing I found my thrill on Bacavi Hill," he said, referring to the Hopi version of Blueberry Hill.
Harvard program
A Harvard-Hopi High School summer program has helped give Hopi High students confidence, but the best is yet to come.
Dr. David Potter, professor of neurobiology at Harvard Medical School, said when then Hopi High School Governing Board member Wallace Youvella Sr. envisioned the program five years ago that the intent was to leave Hopi High students thinking that there is nothing they can't accomplish when it comes to education.
The program has achieved that goal as most of the 33 students in the program have gone onto college and several have gone onto Ivy League schools.
Dr. Potter said the Harvard-Hopi program is hard work as it involves two lectures a day for 15 days and hard assignments. He said the program is not just book work, as students have the task of solving real-life problems.
Hopi High was the first to start this program, but Fort Peck High School from Montana, Hawaiians, and the Wampanoag Tribe from Massachusetts have since joined the Harvard program.
The summer program now has 40 students and eight teachers with 10 students and two teachers coming from each of these four programs this year.
"Lots of other nations want to join," he said.
Potter said the Harvard summer program also teaches teamwork. He said a team can do more than an individual and emphasized that the more complex a problem that the more experts it takes to solve it.
Potter said Hopi's Youvella also taught him the Hopi ideals of humility, compassion and reverence.
Student sentiments
Valedictorian David Weber thanked the teachers, but then urged the graduates to be safe on graduation night.
"Have fun. That doesn't mean hurt yourself. Have a good time, but be safe," he said.
Salutatorian Arnold Lomatewama thanked parents, family, friends and teachers for making his successes possible.
"This is not the end. Life has just begun. Go on to college," he said.
Hopi High Junior Reserve Officer Training Corps started the ceremony by presenting the colors. Connie Thompson sang the Star Spangled Banner. Miss Hopi Ivy Taylor gave the opening prayer.
Kelly Lomayaktewa, student council president, thanked parents, teachers and friends.
"Because of you, we've had a milestone of achievements," she said.
Lomayaktewa told her fellow students that it's up to them to choose a path that will carry them to success.
She urged her classmates not to waste time, but to use their time wisely.
"You are now prepared and ready for the world that awaits you," she said.
Principal comments
Principal Gilman told the graduates that they followed the three A's this year: Aspire, achieve and accomplish. He commended the cross country teams, Junior ROTC, culinary arts, fine arts, Academic Decathlon, AISES, chess, drama, band and softball for having outstanding programs this year.
"Make the most from your knowledge at Hopi High School," he said.
Principal Gilman urged students to vote and to go out and make a difference. He noted that many call Hopi "the center of the universe." He said Hopi is now "the center of the educational universe."
(Stan Bindell, former Observer editor, is journalism and radio teacher at Hopi High School.)