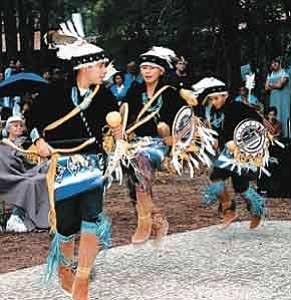 Originally Published: July 27, 2005 5 a.m.
FLAGSTAFF -- Artists, musicians, dancers, and food preparers will gather at the Museum of Northern Arizona's 56th Annual Navajo Festival of Arts and Culture on Saturday and Sunday, July 30 and 31 to share in the weekend's grand offering of Dine traditions.
The central philosophy in Dine life is hozho, meaning everything the Navajo thinks of as good-harmony, beauty, blessedness and balance. Navajo's believe that creating art is one way to maintain this perfect state and more than 55 art booths with juried fine arts and crafts-many the results of such efforts to create hozho-will fill the Museum's historic grounds.
More than an artistic visual treat, the Museum's insightful programming will provide visitors a Navajo "Walk in Beauty."
"We're taking the festival beyond arts and crafts and are featuring the culture and its connection to the natural world," said Museum Director Robert Breunig. "With help from the Arizona Humanities Council, this year's festival is enhanced with Heritage Insights. Under a big tent with the high country breezes blowing and the smells of the pine forest, visitors will enjoy discussions, performances and demonstrations designed to provide a deeper look into today's Dine culture."
Defining the culture
Basket making and rug weaving are two of the arts that define this culture. Sally Black is an award-winning basket weaver and one of the few remaining artists whose vision and fine workmanship are keeping this art form alive. Black, who learned basket making from her mother Mary Holiday Black, has been making baskets since she was 8 years old. She is from Monument Valley and makes large, flat, coil baskets out of sumac fibers gathered from Utah and Colorado.
She is known for her tightly woven designs and says, "The baskets I'm doing now mostly have stories-the First World, the Second World, the Third World, the beginning of life that's all white except for one corn sticks up."
Rug weaving is a Navajo art form that is vital today. Dine Woven is a small family business of weaving, fiber arts and Navajo Churro sheep raising from Teec Nos Pos on the Navajo Nation. Master weaver Roy Kady heads up seven weavers who span three generations and demonstrate "Sheep to Loom," revealing the processes of sheep shearing, wool processing, and weaving with Navajo Churro wool and the fine art of textile weaving.
Up-and-coming new weaver Melissa Cody, just 22 years old, and her mother Lola Cody weave rugs on traditional looms and will explain the materials and techniques they use. The younger weaver's trademark vivid colors and detailed designs are winning awards and attracting collector's attention.
"Like my mom, I've been weaving since I was 5 years old. I used to sit by her when she was weaving," Melissa said. "She used to stop and show me how to do something, but mostly I learned by watching. In my weaving, I am trying to break the boundaries of the regional styles and incorporate more styles into one piece."
Mother Lola Cody is known for her fine tapestry weave and her Burnt Water style of weaving.
Contemporary clothing with multicultural elements comes alive with a fashion show of Flagstaff designer Arista LaRusso's new work. This designer's trendy, fashion forward Native American clothes will be displayed on models moving throughout the museum and available for viewing up close at her booth.
Emphasizing tribal perspectives
Heritage Insights, MNA's Arizona Humanities Council sponsored project and a new component, will broaden and enrich this year's festival with Navajo worldviews, philosophy, linguistics and ethics and share the concepts and ideas behind Native arts. Navajo symbols will be used to explore underlying cultural concepts.
One of today's most important artists, Shonto Begay is a visual storyteller whose creativity births paintings of wonder, sadness, and truth about being Navajo and living on the reservation. At the festival, Begay will talk about "Sacred Places and Art" and show a sampling of his new work.
Linguist Larry King from Farmington, N.M. is a bright light not to be missed. His humorous reflections of the Dine culture in Navajo and English walk the audience along a path of history and legend, and highlight "The Resilience of the Navajo Language in the 21st Century."
Dr. Evangeline Parsons-Yazzie, Associate Professor of Navajo at NAU's Department of Modern Languages, is the author of a new children's book, Little Woman Warrior Who Came Home: A Story of the Navajo Long Walk. Parsons-Yazzie will talk about the Navajo language.
James Peshlakai, Resident Elder for Native American Students Services at NAU is a noted medicine man and counselor, and a champion for the Navajo people. He will share his wisdom at his talks about "Modern Dine."
Bahe Whitethorne, a noted painter and children's book author and illustrator, has exhibited his work across the U.S. and Europe. He represents his homeland and culture with depictions of the harmony of Navajo life, striking landscapes with buttes and canyons, and colorful dancers. He will talk about "Traditional Culture Influencing Modern Art" and show some of his exceptional work.
Theresa Boone Schuler, a Dine educator from Flagstaff, leads ethnobotany walks along the Museum's Rio de Flag Nature Trail and discusses traditional Navajo uses of native plants. She grew up in Belmont, where her father worked for the Navajo Army Depot. He was a noted Dine herbalist who urged her to pass on the knowledge of traditional healing plants by teaching about identification and usage.
A rich sampling of music and dance
This year's festival highlights six individuals or groups representing the broad range of today's Navajo performers. Blackfire, just back from its European tour, is a young trio with protest and political activist lyrics. The group bridges the gap between alternative/punk music and folk songs and will bring their rarely performed acoustic sounds to the event.
Clarence Clearwater, well-known is this region for his singing on the Grand Canyon Railway, has an enchanting and deep voice for his traditional and contemporary folk songs in Navajo and English.
Winner of the Best Female Artist at the 2002 Native American Music Awards, Radmilla Cody will showcase songs from her new CD, "Spirit of a Woman," using her stunning and emotionally-charged voice to sing Navajo songs and lyrics.
Traditional flute and storytelling by drummer/percussionist Hunter RedDay and flute player Kelvin Bizahaloni will fill the Museum's courtyard.
And finally, the festival is excited to welcome back singer/songwriter Aaron White, a Native American Music Award winner and a Grammy-nominated artist, to perform his powerful new folk songs.
The Pollen Trail Dancers are a traditional children's dance troupe from Joseph City, AZ that performs colorful social dances. They perform the Bow and Arrow Dance which they dedicate to all veterans, the Maiden and Corn Grinding Dance which focuses on the traditional tools of the Navajo woman, the Sash Belt or Weaving Dance which honors Spider Woman and all who are keeping the tradition of weaving alive, and the Basket Dance to honor and appreciate the many purposes of baskets.
About the Navajo Nation
The nation's largest tribe, the Navajo Nation extends into the corners of three states-Arizona, New Mexico, and Utah-and covers nearly 27,000 square miles. This sovereign nation receives revenue from natural resources and major development, and is focused on its goals of increasing health care, education, economic development, and employment to benefit the Navajo people. Thousands of tourists each year are attracted to the reservation to enjoy its scenic wonders including Monument Valley, Canyon de Chelly, Chaco Canyon and Hubbell's Trading Post.
Festival sponsors
MNA's 2005 Heritage Program festivals are generously sponsored by: the Arizona Commission on the Arts, Arizona Humanities Council, Annetta and William Arthur, Bahti Indian Arts, Cameron Trading Post, City of Flagstaff, Coconino County, Flagstaff Cultural Partners, KOLT Radio, KVNA Radio, Monica Heaney Nackard Foundation, National Endowment for the Arts, Painted Desert Trading Company, Radisson Woodlands Hotel-Flagstaff, The Loloma Family and Verkamp's Store.
About the museum
The Museum of Northern Arizona seeks to inspire a sense of love and responsibility for the beauty and diversity of the Colorado Plateau. It sits at the base of the San Francisco Peaks, the highest mountains in Arizona, and is located three miles north of historic downtown Flagstaff on scenic Highway 180. Festival hours are 9 a.m. to 5 p.m. both days and admission is $5/adult,
$4/senior, $3/student, $2/child (7-17), and members are free. Become a member today in time to attend the Navajo Festival Members' Preview, Arts Award Ceremony, and Silent Auction on Friday evening, July 29.
For more information, go to www.musnaz.org or call 928/774-5213.