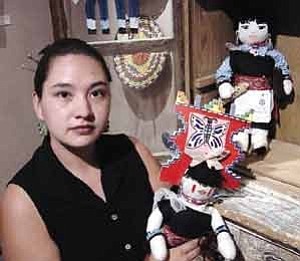 Originally Published: July 27, 2005 5 a.m.
The multi-tasking started the moment the interview began. With one eye on her 4-year-old daughter quietly playing in an adjoining room and the other eye on her 4-month-old son sitting in a high chair, Somana Yaiva responded adeptly to questions about her recent success as a Hopi quilt artist.
"I used to paint," said 24-year-old Yaiva, "but I became concerned with the toxicity of paints when I had children. Quite by accident, I became interested in quilting when my mother in law asked me if I could sew a straight line."
One of Yaiva's quilts, with its main image being a large corn dancer katsina, sold opening night at the Museum of Northern Arizona Hopi Show on July 1 in Flagstaff.
"Most of my things have sold opening night at the Hopi Show over the years," mentioned Yaiva modestly, "but then I keep my prices low because I want people to buy and use my creations in a functional way."
Another of Yaiva's quilts is on display at the Coconino Center for the Arts 2005 Native American Festival of Arts & Culture, which runs through August 13. This quilt is of Snow Maiden, Nuvak chin Mana, with a pueblo image behind her. A variety of colorful fabrics inter-weave an effect of landscape and the quiet essence of winter. Snow dusts the images and a warm landscape palette at top and bottom of the quilt hold the winter scene in its center place.
"Mennonite women started quilting groups on Third Mesa in the late 1800s," said Yaiva, "and they read scriptures during these quilting sessions hoping for converts. There are many Hopi quilters today from these early quilting sessions. Most of the 75 or so quilts I have made in the last three years have been small baby quilts for friends and family and I have sold some too."
"The fabric talks to me when it is in my hands and shows me where it wants to go. I find the patterns, textures and colors excite me more than paints and find that this medium of cloth is well suited to what inspires me to create," said Yaiva.
Yaiva credits coming from an artistic family and community for her success in the local art community.
"Numerous friends and family from Hotevilla have encouraged me and helped me along the way. My mother, Rosanda Suetopka Thayer is a musician, writer and artist. My late father Stephen Thayer was a movie and TV producer, writer and liked sketching. My grandparents have supported my efforts with gift certificates to fabric stores, and my husband Gabe Yaiva is a Hip Hop musician and music promoter. There were also a lot of others that encouraged me, including my mother in law who suggested I try quilting in the first place."
"I am planning my projects way ahead of time now that I am a mother of two young children. It is funny how the little ones seems to sense when I am working on projects and amuse themselves while I sew," Yaiva said.
Yaiva is also the maker of soft dolls in Hopi traditional clothing that children can play with easily.
"The clothes come off as well as any jewelry I put on them," said Yaiva. "I really want my creations to be used as opposed to simply looked at. However, I have recently seen Japanese silks that I think would make lovely quilts. I do not think those fabrics, however, would be laundry friendly."
With an interest in starting nursing school soon, Yaiva wonders about free time available for making more quilts including working on several custom orders recently received.
"I enjoy being busy and creating and I draw a lot of ideas from my Hopi culture," Yaiva mentioned as she lovingly picked up her new son and gave him a kiss.
(Rita "RC" Alexander is currently Advertising Manager for the Navajo Hopi Observer and since 1992 has written articles for several publications, including the Navajo Hopi Observer, having to do with native arts issues.)
More like this story