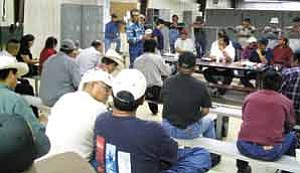 Originally Published: July 21, 2005 5 a.m.
BLACK MESA, Ariz. -- Black Mesa coal miners and pipeline workers said they planned to join the 2005 Navajo Nation Council Horse Ride last week to seek support for their livelihoods and to show their support for the Navajo Nation's efforts to keep their mine and the Mojave Generating Station open.
In a three-and-a-half hour meeting with Navajo Nation President Joe Shirley Jr. here last week, about 100 miners from the Black Mesa and Kayenta Mines expressed concern that the Black Mesa mine will inevitably shut down.
They fear this will occur despite negotiations among the Navajo Nation, the Hopi Tribe, Peabody Energy Company and the power plant's owners to construct a C-Aquifer pipeline to provide an alternate source of water for the slurry line that carries coal to the Mohave Generating Station.
According to the terms of a 1999 federal court consent decree entered into with the Sierra Club, the Grand Canyon Trust and other environmental organizations, the owners of Mohave Generating Station cannot operate the power plant after Jan. 1, 2006, if new pollution control equipment, known as scrubbers, is not installed at the plant.
In July 2003, the Navajo Nation Council passed a resolution calling for the end of the industrial use of the N-aquifer for coal mining purposes on Black Mesa. If the restriction called for in the resolution is enforced, it will mean the closures of both the Black Mesa and Kayenta Mines, which supply coal to the Mohave and Navajo Generating Stations.
Without a secure supply of water, which is required to transport coal to the Mojave Generating Station, the owners of Mojave cannot commit the $1 billion to install pollution controls on the aging plant.
Gilbert Greymountain of Shonto, who works at the Black Mesa Mine, said he has been asked to conduct the Horse Song prayer at the beginning of the 2005 Council Horse Ride the morning of June 11 at Navajo Mountain.
Surrounded by lockers and men and women wearing blue jeans and decaled hard hats, Mr. Greymountain was among the workers gathered in the Black Mesa Bathhouse for a discussion with the President, Navajo Nation Attorney General Louis Denetsosie and Navajo Human Resources Director Lawrence Oliver.
Also attending with the President was Navajo Workforce Development director Helen Benally and Isabelle Walker, deputy chief of staff in the Office of the President and Vice President.
Greymountain echoed the feelings of other miners when he said some individuals and council delegates have made up their minds against using the C-Aquifer to replace N-Aquifer water to slurry coal even though the C Aquifer Study report concerning the availability and quantity of water has not been released.
"We are early risers," Mr. Greymountain said. "We should go lobby the council and help our President by joining the horse ride."
He said sacrificing some 265 Navajo mine jobs, 35 pipeline jobs and tens of millions of dollars in royalty and tax revenue to the Navajo Nation is the wrong way to proceed into the future.
"We're real proud of what we do here," added Marie Justice, president of United Mine Workers of America Local 1620. "And we're real concerned about our jobs."
Leonard Bailey said unemployment is already bad on the Navajo Nation because of a lack of jobs. Navajo people's children work at faraway jobs because there's nothing for them here, so families may not see them for up to a month.
Billy Arizona Jr., Bodaway chapter president and a miner, said the mine closure would affect the entire Navajo Nation and all of its programs, including scholarships.
He, too, encouraged miners to join the Horse Ride from Cameron to deliver their message to council delegates.
"It's our children who are now worried," he said.
President Shirley told the miners that the Navajo Nation remains diligent in trying to negotiate with the owners of the Mojave Generating Station and the Hopi Tribe but that the likelihood of the Black Mesa Mine closing appears inevitable.
He said he hopes any shutdown to be temporary but that may be as long as 36-to-48 months to give enough time to install scrubbers.
"It's by no means complete," he said of the negotiations. "But we're facing a timeframe. I think you all know that. We're ready. We've put it all on the table."
The President reported that just days earlier he signed a statement to emphasize that he does not want the Mojave Generating Station to close.
"What can we all agree on?" he asked. "I continue to have my hopes. It's not the Navajo Nation that's dragging its feet."
The key to keeping the plant open is having a plentiful supply of coal and that means having an adequate water source to keep the pipeline operating. That requires replacing the N-Aquifer water source with the C-Aquifer. The feasibility study to determine whether the C-Aquifer is adequate is not expected until at least September, he said.
Peabody Energy has not notified him that it plans to issue layoff notices, he said, and MGS hasn't said it's going to throw in the towel, the President said.
Navajo Attorney General Louis Denetsosie reported that enough Navajo coal is under lease to continue mining until 2026 for both the Mojave plant and the Navajo Generating Station at LeChee.
He said the if a C-Aquifer pipeline is built, the Hopi villages and Navajo communities of such as Tolani Lake, Birdsprings and Leupp will request that water be made available to them from the C-Aquifer.
President Shirley has said the plan to use the C-Aquifer for the Black Mesa Pipeline is not practical unless these communities can receive water.
"It's going to take time but by the end of this year we would like to have some agreements," Denetsosie said.
He said it is important that the Navajo Nation put its water to work for industrial as well as domestic uses or risk losing that water to non-Indians.
"Ultimately, it's the water rights question," he said. "If we don't use it, it won't be ours later on."
He said that with quickly rising prices of natural gas and crude oil, power companies are eager to develop coal sources. And with four billion tons of coal estimated in the Former Joint Use Area, it's a plentiful natural resource that the Nation must use to enhance its independence.
The President said the Navajo Nation will survive financially despite a shutdown of the Black Mesa Mine and pipeline, "but what will happen to the miners?"
These are the people, as well as their families and communities, who will suffer.
Their incomes represent millions of dollars to the local economies.
"There are a lot of able-bodied families out there who could work but there are no jobs to put shoes on little feet," President Shirley added.
One coal miner said the miners felt betrayed by the lack of support after he and his co-workers worked their entire careers at the mines, which helped benefit the entire Navajo Nation. Now they need help, and some members of the Navajo Nation Council are turning their backs on them.
"Let's help each other," Greymountain said.
The miners asked whether it is possible that the Navajo Nation could provide them with some financial relief should the mine and pipeline close down.
"I'll give it everything I've got to try to get you that relief," President Shirley said. "I think you deserve it. And I don't think you're asking too much."
"We like where we are right now. We enjoy our work," said Robert Parrish,
president of UMWA Local 2483. "We make pretty good money. We have families. We have kids everywhere."
He said he spent four years in Chicago making teeth prior to returning home to work at the mines some 30 years ago.
"All we want to hear is 'Go' from Mojave and Peabody," he said.
Forest Lake Chapter President Donald Tracy Chee, who worked himself up to assistant department manager over the last 32 years, said the miners need to let the Navajo people know of the benefits the miners, mine and Peabody Energy has provided the Navajo Nation over the life of the mine.
"I'm a company man but I will talk about it because I'm Navajo, bottom line," he said. "These are my brothers and sister who are being jeopardized."
Despite their being contributing, tax-paying members of Navajo society, several of the miners who spoke said they did not feel that their own chapter's council delegates represented their position.
"They say they want the mine shut down," said one miner. "I don't think that's right."
Expressing frustration with delegates who have not visited with them to learn of their concerns, several miners asked if it was within the President's power to reduce the size of the Navajo Nation Council.
"It's going to have to be the people who does that," President Shirley said.
He said he would like to see the Navajo Nation employee workforce unionized to give them a greater voice over their own working conditions.
"We need employees to have input to where they're listened to," he said. "If they come with one voice, I think the government will listen."
(George Hardeen is Navajo Nation Communications Director.)