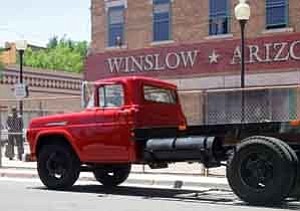 Originally Published: July 13, 2005 5 a.m.
There's a flatbed Ford but where's the girl, my Lord?
The girl, or boy, will be the hundreds of visitors who stand on the corner of Second and Kinsley to have their picture taken at the famed park.
On July 2, members of the Standin' on the Corner Foundation parked the flatbed Ford pickup on Kinsley so visitors would have something to stand near for photos of their trip to Winslow.
Until the mural wall is safe to stand near, the fence must remain around the Park, which has caused some visitors to complain according to SotC Foundation President Glenn Howeth.
"Were having a hard time getting people to come over here and we're getting a lot of bash e-mails about 'well, I come all the way over here and I can't take a picture standing by anything because of the fence,'" he said. "So we thought we'd place that there and maybe they'd take a picture. We're just trying to accommodate the people who do come here and give them what we can so they don't leave with a bad taste in their mouth."
The 1960 Ford F-100 is not the same model as the one in the mural but was refinished to be as close as possible. Howeth said the Foundation has a pair of trucks that more closely resemble the mural, but both require a great deal more work before being considered photogenic. Howeth said members continue to keep an eye out for the right truck.
To find the one parked at the corner, members needed to look no further than here in Winslow.
Casey Gilliam, a new Foundation member, found the truck in a lot on the 1100 block of Williamson. Long-time resident George Burger has owned the Ford since about 1968 or 1969. He bought it in Phoenix at a used car lot and said he thinks it belonged to Arizona Hardware.
Burger used it to haul wood to build his house he has lived in since 1973. But it's been sitting dormant for about 12 years. He said he was glad the truck went to the Foundation to use for the Park.
"That's what prompted me to sell it. I had already been thinking about that too. So when this happened, I thought well, it was going where I wanted it to anyway," he said. "It was hard to let go of it but I have just too many things going and I had to cut out some of my projects."
The truck was in pretty good shape mechanically, but needed some body work. The bed was damaged from years of hauling wood and more than a decade of weathering caused rusting.
Gilliam said he repaired the brakes, changed the tires and rebuilt the carburetor. Chipper Cunningham and Mike Dugger at 3C's Auto Body painted the white cab red to match the mural and Rodney Rutger at Pro Dirt straightened the bed. Cunningham said Doug Walton of CarQuest of Winslow donated all the materials.
"Casey brought it to us in pretty bad shape. It was pretty rusted out. We basically just took it and stripped it and did semi-restoration on it," Cunningham said. "We painted it as close to red as in the picture as we could."
Burger said he guesses the truck has about 129,000 miles on it, but the last 29,000 were on a motor he replaced. The engine is a 292-cu. inch Ford V-8, which was standard for that time. While rebuilding the engine, Burger found that the previous owner had installed 318 cylinder heads from a Ford Thunderbird. That gave it a little extra power, said Burger, a 45-year veteran of the railroad.
"That thing was just like a tank," he said. "Get some weight on itS where you would really get traction. That low gear would just crawlS it had a lot of power that way. It was always lots of fun to drive it. "
Gilliam said he's still working on the other two trucks, which were donated by Kachina Auto Wrecker. He said the Foundation would like to have two working trucks so one could remain at the Park and the other could travel to promote the Park and Winslow.
"We'll have one for parades and get a little advertising out of it and things like that," he said. "We'll let people know we're doing something and make it part of our community."
Cunningham said he's already seen the truck garnering attention.
"Yesterday (July 6), I drove by and there was probably five people taking pictures with it," he said. "That's pretty neat."
More like this story