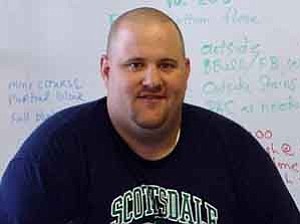 Originally Published: July 13, 2005 5 a.m.
Winslow High School football coach Matt Gracey stunned many of his players, associates and friends with the news that he had accepted a position at Port Angeles High School in the state of Washington. He had spent five years as the head mentor of the Winslow Bulldogs.
Gracey's teams won the 3A North Region Championship four out of those five years after finishing second in his first year at the helm. All five of his teams reached the Arizona State 3A Championship Play-offs. The Bulldogs advanced to the state semi-finals twice, losing to the eventual state champion on both occasions.
The Bulldogs finished their last three seasons with 10-2 records and Gracey had a combined record of 43-13 at Winslow. The Bulldogs were 30-6 in the past three years. Gracey was an active member of the community and established a tradition of having his football players participate in a community clean-up. This activity usually took place in June or July and was performed in each of Gracey's five seasons.
A number of Winslow Bulldogs have gone on to play at the collegiate level after playing for Gracey. That list includes Anthony Carter at the University of New Mexico, John Sullivan at Haskell Indian University in Kansas, Adam Reeves at Mesa Community College, Brandon Guzman at Scottsdale Community College, Orlando Vargas at Oklahoma Panhandle State, Carlos Quezada at Pima Community College and Mike Zaitz at Pima Community College.
Gracey was the 3A North Region Coach of the Year in 2001 and was the Navajo Times' Coach of the Year in 2001, 2002 and 2003. He was an assistant coach at the All Star Game in 2001 and 2003 and the head coach in 2002. His teams won all three of those games.
Port Angeles High School is located on the north coast of the Olympic Peninsula and is directly across the Juan de Fuca Strait from Victoria, British Columbia. It is a 4A school with 1,400-1,500 students. Their athletic program includes sailing, gymnastics and lacrosse as well as the more traditional sports.
The Roughriders will present a challenge for Gracey as the team has finished 5-14 over the last two years and lost seven games last season by an average score of 41-11. He said that he is looking forward to the opportunity and the challenge of turning the program around.
Gracey lists his best moments as defeating Blue Ridge three times, getting to the semi-finals twice and coaching his players in the three All Star games. He said that he was privileged to have been able to work with four of the most successful coaches in Winslow and Arizona history. Those were Don Petranovich in girls' basketball, Artie Griffith in baseball, Emil Nasser in football and Liz McLaws in volleyball and gymnastics.
The choice to leave was not an easy one and Gracey left an impressive list of people and organizations he would like to thank for their support and kindness during his time in Winslow.
He said, "I would like to thank all of the players, managers, coaches and parents I have worked with these past five years. I cannot possibly name all without leaving out someone important.
"Thanks to the business community for their support. Thanks to the district and Petranovich for giving me the chance to be a head coach. Thanks to the First Baptist Church for being a great family of believers. And last but surely not least, thanks to Loy (Engelhardt) and Sam (Conner) for the great media coverage we have enjoyed. Both are special and I thank you for five great years of sports coverage.
"I also hope this community realizes how lucky they are to have a radio station like KINO and a man like Loy. No other city I have been associated with has had their own personal station at each contest, regardless of the season. This town is lucky to have people who care about high school sports like these two men do."
More like this story