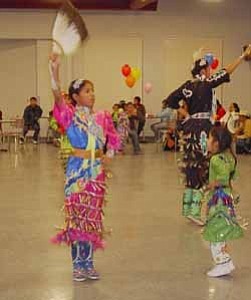 Originally Published: December 28, 2005 8:10 a.m.
Winslow Unified School District and the 2005-2006 Indian Education committee hosted a wonderful gathering of students, parents, staff and community at their 1st Annual Holiday Celebration and Pow-wow on December 12.
All in attendance were treated to turkey and gravy and an assortment of side dishes and desserts and were introduced to our special guests and performers - Miss Native Winslow Sweetie Cody, Miss Native WRH Diandra Nezzie, Mr. Wilburt Clah & WRH Swingers, Ramina Jackson and Family, Cassandra White-James & Family, Sacred Nation of Dilkon, and many others.
Special thanks go out to the staff, Winslow Residential Hall, community members and volunteers who shared delicious foods and to those who helped - Gloria Alcott, Toni Villaneuva, Nora Smith, Alice James, Loretta Chischilly, Elvira Wilcox, Maribelle Ogilvie, Cyndie Mattox, Eleanor Reyes, Ashley Nelson, Starlene Tsinniginnie, Levyna Ben, WHS Tribe of Many Feathers, Nora Cody, Terri Little, Martha Lee, Doug Watson, Troy McReynolds, Deanna Wilcox, Manuel Huerta at McDonald's, Greg Carlson at Bashas and Chartwells.
More like this story