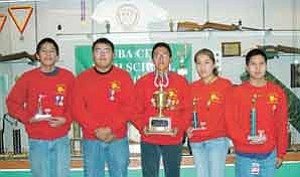 Originally Published: December 28, 2005 4 a.m.
TUBA CITY -- The 2005-06 Tuba City Warriors Marine Corps Junior ROTC have hit the highest national mark -- First Place in the Western United States and First Place for the entire United States for High School in Marksmanship Competition.
Along with their recent state competition high school wins, this makes the Warrior program award winning on several levels. The recent wins at Marcos de Niza, Globe, Tuba City and Dysart had Tuba City High at a final overall score of 4,100, with three of Tuba City High School's sharpshooters taking the highest marks, Ashley Manygoats, 262; Charles Lee, 264; and Darrell Robbins, 257.
Though the program is fairly new for both team and especially individual competition, recognition at the state and regional level has been extremely tough.
But TC Warriors have come through with high flying colors, making teacher instructors and commanders at Tuba City High School especially proud of their student's exemplary attitudes and bulls-eye aim.
Teacher-trainers of the award winning, Tuba City High School Marine Corps Junior ROTC program, 1st Sgt. Kenneth Bustamante (USMC) Ret. Senior Marine Instructor and Drill Team Coach, and Gunnery Sgt. Timothy J. Shaner (USMC) Ret. Marine Instructor and Marksmanship Team Coach, have "camouflage green" blood running through their veins and are quickly "transfusing" their own self discipline, winning attitude as they strive for the best approach to academics, self-motivation, good citizenship and community mindedness for their young trainees.
This winning attitude and approach has brought them the recent state and national recognition, because the students under their watch have adopted those hard-line habits that are making a difference in both their personal and academic lives.
There are currently two completely filled 12-foot long trophy cases in the Warrior Pavilion that contain medals, trophies, plaques and banners listing the accomplishments of the students that take the TC High Marine Corps Junior ROTC courses.
Parents of the TC High students have said publicly that their students have changed in extraordinary ways after they took the Marine Corps Junior ROTC courses under Bustamante and Shaner. They mentioned that their children are more disciplined and more willing to help, understanding both home and community commitment.
On Dec. 3 at Flowing Wells, Tuba City to won Southern Region Championship for the third year in a row. The final team score was 2,133, which set a new Arizona state high school record.
This regional win also set a new national record for the Marine Corps Junior ROTC.
The first round of Marine Corps Junior ROTC Nationals was fired on Nov. 22. Tuba City High School was first place in the eighth Marine Corps District and also brought home at that time First Place for Western United States and then additional category of Entire United States-both East and West.
The top three teams from each district (Eighth, Ninth and 12th, which makes up the Western United States) will fire against one another in February at the Second Round Nationals at the Olympic Training Center in Colorado Springs, Colo.
The Eastern part of the United Sates will fire at Ft. Benning, Georgia Feb. 9-11. The top two teams from the East and from the West will then go on to represent the entire high school Marine Corps at the Junior ROTC Nationals in Ft. Benning, Georgia in March.
For more information about the award winning, National Champion Marksmanship Marine Corps Junior ROTC Tuba City High School Program, call TC High for more information at 928-283-6969 or the Tuba City District Office of Public Relations at 928-283-1072.
(Rosanda Suetopka Thayer is Public Relations Director for Tuba City Unified School District.)
More like this story