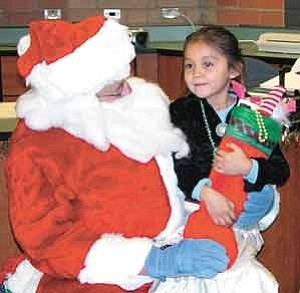 Originally Published: December 20, 2005 4 a.m.
GAP-COPPERMINE -- Set in the dramatic, craggy red stone bluffs of the Gap-Coppermine area is the Tuba City District school, "Tsinaabaas Habitiin," which recently received an Excellence in Masonry Architectural Award for design work incorporated into the building construction and interior design.
However, this school is not only distinguished by its sensitive and harmonious design work. It has an additional secret feature.
Tsinaabaas Habitiin's "secret feature" is its students and staff have managed to change, not only the educational path of its elementary population, but also the way the entire community perceives itself in terms of self-worth, participation and pride in its award winning school facility.
The annual Christmas program, held on Dec. 15, was a blend of Navajo culture mixed with the Tsinaabaas Habitiin students' contemporary experience of other indigenous cultures around the world and how these cultures compliment their own traditional Navajo upbringing.
The program was titled, "Christmas Around the World," and it featured each of the five levels of classroom age groups.
While there were five main characters on stage the entire program, which featured a paper Navajo Hogan, a real wood stove and other Navajo traditional household items. Each class developed its own Christmas song from other cultures and dressed in the tribal-native clothing from that area of the world.
In addition to Navajo culture, there were Africans, Hawaiians, Eskimos and references to the large marketing chain, Wal-Mart as well as what that retail experience is to young students from the remote Navajo reservation.
To include the parents and community members of the students, a potluck furthered the bonding process, with the parents and grandparents sharing a meal with the teachers, administrative staff and visitors immediately after the program.
Dick and Jane Wilson, who are retired University of Arizona faculty, had developed a long-term friendship with Louise Yellowman, a native of the Gap-Coppermine area, who was one of the original teachers a long time ago at the old Gap school. They make an annual trip to Tsinaabaas Habitiin to bring presents for the entire 91 students who attend this community minded school.
The Wilson's, along with several support members from the Flagstaff area, came with stockings filled with candy, coloring books, American flags and other smaller assorted toys for each student.
Their Christmas support group included Soonie McDavid, Colton Wilson (their grandson), Betty Marcus, Cherie Garrett, Lunden Owen, Diane Jarvis, Sue Mattson, and Roger Naumann.
In addition to the Christmas theme memento stockings they received, each child got to make a choice of both a huge stuffed animal and a large gender specific toy.
Each of the 91 students walked away with three Christmas items and from the looks on their faces, were pretty overwhelmed at having received such wonderful surprises. Their were beaming with smiles as they left the library where the gifts and special visiting Santa had set up "shop" with his two visiting helper elves.
Students who were the primary players in the production were Damian Tallsalt, third grade, Ember Shorty, third grade, Kendrick Holmes, second grade, Cody Tacheene-first grade and Maya Horseherde, kindergarten. Students who served as Master of Ceremonies were Desmond Tacheene and Devin Smith, both third graders.
Classes that were featured included: Ms. Chissie's kindergarten, Mrs. Brown's and teacher aide Ms. Slabye's first grade, substitute teacher Ms. Canyon's and student teacher Ms. Blackhat's second grade, Mrs. Reed's third grade, substitute teacher Mr. Belinte's and teacher aide Mrs. John's special education class and Mrs. Tsosie's Navajo language class. Teacher Norman Jensen provided technology and oversight management for the entire production.
School Site Supervisor Leila McCabe and Administrative Assistant Jane Lanza were busy the entire day, looking after details, welcoming parents, encouraging students and helping serve the Gap-Coppermine community parents and grandparents the potluck lunch.
For more information about Tsinaabaas Habitiin School in the Gap area, call the Tuba City District Office of Public Relations at 928-283-1072 or call the school itself at 928-283-8937. Ask for either Jane Lanza or Site Supervisor Leila McCabe.
(Rosanda Suetopka Thayer is Public Relations Director for Tuba City Unified School District.)
More like this story