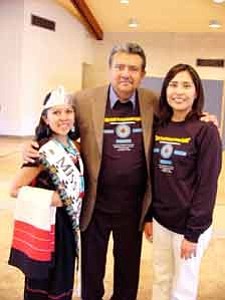 Originally Published: December 14, 2005 4 a.m.
FLAGSTAFF--"Are you leaders or followers?" This was the question posed to 140 Native American students from the Flagstaff Unified School District by inspirational speaker Howard Rainer. "This is your day to shine," he promised.
Rainer (Taos Pueblo), a program administrator for the Native American Educational Outreach Pro-grams at Brigham Young University, opened the 2005 Native American Leadership Conference held Dec. 6 at Northern Arizona University's duBois Conference Center in Flagstaff.
Taking 50 youth from the group, Rainer spent the morning helping them prepare a program that later closed the conference.
"I took these kids who came saying 'I can't do it,' 'I'm too shy,' and they are preparing to put on a stage show that will illustrate who they can be," Rainer said. "High expectations bring out the best in native youth, and you'll see this at the end [of the program]."
High expectations for native students is the driving force needed in every public school, charter school, tribal school according to Rainer--something that is to date lacking he said.
As Rainer talked, Jessica Onsae, Miss Hopi 2005-06, (who delivered the opening invocation earlier in the morning) demonstrated her strong role modeling skills by urging a group of students in the process of developing a commercial to take a deep breath and project their voices into the room. She confidently added her piece to the presentation.
"Going to college is not for wimps," Onsae said. You must pursue your education."
Rainer looked on with approval. "If I had more time with these young people, we'd go school to school and blow Indian kids away--give them the skills to show who they really are."
LeRoy Shingoitewa (Hopi), the principal of Lura Kinsey Community School and the Master of Ceremonies for the conference, also worked with a group of students preparing a skit to demonstrate native pride.
"Do you know your Hopi clans?" he asked the Hopi students in his group. "Do you know your clans," he asked the others. "Can you tell your tribes and your clans? That is an example of native pride."
Shingoitewa received the U.S. President's 676th Thousand Point of Light Award in 1991 and was an Arizona Delegate to the White House in 1993 for 1000 Points of Light Presentation.
The theme of the conference was "Native Youth Making Extreme Impact." The program was sponsored by the Indian Education Support Program, a supplemental program funded by the Department of Education's Indian Education Program Title VII and the Navajo Nation Johnson O'Malley Department.
Other presenters included Mary Chris Martin, Diedra Silbert, Dennis Bowen, Cuyler Boughner, Evelyn Begay and Eugene Begay along with community leaders like Enai Begay, Tony Skrelunas, Bob Lomadafkie, Roberto Nutlouis and Gabriel Yaiva.
Alberta Nells and Kelley Nez spoke on behalf of the group Youth of the Peaks, urging young people to take responsibility for delivering important messages for their tribes and their elders. Nez explained that she had founded the group to help in the battle to preserve the sacred San Francisco Peaks.
Mary Chris Martin told students that she finds leadership awesome.
"The reason I'm excited is because I chose an arena that I believe in," Martin said. "Laughter is medicine. It heals people. I'm a little crazy, I want to build you up."
Later many students were enthusiastic in their praise of Martin, who works in many fields, including acting and comedy.
The Youth Conference Planning Committee was made up of LaShia Sharfenberger (Killip Elementary), Allen Scott (Kinsey), Emily Begay (Coconino High), Tony Skrelunas (Grand Canyon Trust), Diedra Silbert (Coconino County Juvenile Court Services), Lacretia Ellsworth (Flagstaff Middle School/Marshall Elementary) and Ella Mase (Coconino High School/Puente deHozho. The Navajo Nation Department of Education Johnson O'Malley Program, the Grand Canyon Trust, the Yavapai-Apache Nation, the Inter-tribal Council of Coconino County and Wells Fargo Bank contributed to the conference.
The 50 students prepared by Rainer put on a stellar performance that included positive messages, commercials, and strong demonstrations of native pride.
After the applause died, Rainer took the stage to close the program.
"Some of you will leave the way you came with no change. Some of you will go home and say its time to make a difference--willing to serve your community, willing to be a role model," Rainer said. "No Native American student in this room should have less than a 'B.' It's time for us to make a stand and demonstrate our true ability. Each of you should go home with something in mind for where you live.
"Be the Native American you're supposed to be, the person to wear your last name with pride, the person to be a role model."
After the students were released, Rainer explained why he chose to inspire young people to learn.
"I wasn't very good in high school," Rainer admitted. "It just wasn't there for me until one teacher said to me, 'Howard, you are a genius.' That made all the difference in the world. I want to help children catch their vision, to show them they have the tremendous potential to make a difference in their world."
Rainer said he loves his work, which takes him to reservations, reserves and rancherias throughout North America.
Onsae described Rainer as extraordinary.
"He knew how to get his message across to students in a way they could understand," Onsae said. "I learned that even though [as Miss Hopi] I am in the public eye, there are times when I am shy, and unable to put forth my full effort. Howard's program has taken me to places in public speaking that I thought I could never go. He's a special guy."
LaShia Sharfenberger described Rainer as an inspirational voice, which had a great impact on the FUSD students.
"He kept the students engaged, he set his expectations and set them high. He gave them a message to be proud of who you are," Sharfenberger said. "I saw these kids believe in themselves."
"To do something substantial, you must get the educational world to allow Indian people to ask two questions--why and why not," Rainer said. "These two questions can empower others. Without this, things will go on for the next 200 years."
Rainer expressed his appreciation to FUSD for putting on the leadership conference. "When you have a superintendent who supports Native American educational programs, you can do magnificent things."