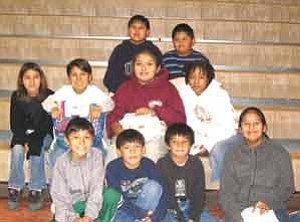 Originally Published: December 8, 2005 4 a.m.
CAMERON -- Timothy Nez, Nakisha Tracy, Kristopher Williams, Alyssa Dugi and Kiana Wesley did something extraordinary since they started first grade at Cameron's Dzil Libei Elementary and that was to be at school every single day without missing a single lesson.
For that exemplary effort, their names were thrown into a pool of 28 other Dzil Libei students who also were recognized for perfect attendance. Five turkey lotto winners were picked to take home huge turkeys provided by TC District's Superintendent Dr. Hector Tahu and TCUSD #15.
One of the goals set for Dzil Libei Elementary's School Improvement Plan is to move forward educationally, increase enrollment, attendance and academic achievement through incentive plans like this.
Dzil Libei administration and staff is the first to recognize parental and local community involvement with their student attendance achievements. THey wanted to recognize some of the Dzil Libei staff members for their additional support in their student activity, which includes Louise Badoni and Marie Thompson-Counselor.
Tuba City District salutes the Dzil Libei Students who have been awarded the honor of Perfect Attendence for the first semester.
(Rosanda Suetopka Thayer is Public Relations Director for Tuba City Unified School District.)