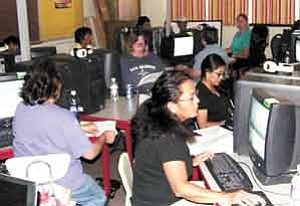 Originally Published: August 31, 2005 5 a.m.
TUBA CITY -- Now, more than ever, educators are under heavy pressure bring up student test scores, improve academic retention, urging students to produce more and higher quality work at a faster pace.
But those final test results are not easy to come by, and there have been lots of educational theories developed over the years on how to get those desired outcomes from students that have been met with partial success.
Tuba City District has selected AIMSweb, which monitors progress as well as provides an improvement system that assesses learning by evidence based evaluation and data-driven instruction.
In what will be a series of trainings starting this month and will continue for three more sessions in the coming months, TC District hopes to learn more about how well its K-12 students read and comprehend their classroom materials. They will find out what they can do as teachers and support staff to assist students in understanding and thinking more about their subject matter.
The first two days of AIMSweb training at Tuba City District focused on "reading fluency." This "reading fluency" will be tested on each student who will read a passage of narrative material in a short timed sequence and then they will be assessed in how quickly and how thoroughly they read each passage. If there are mistakes or hesitations noted while reading, the teacher is then taught how to help the student make changes in their classroom and at home learning skills to better understand the materials. This, in turn, stimulates higher retention in subject matter and comprehension, which is called "progress based intervention."
The first part of each AIMSweb training session is teaching the teachers and support staff how to monitor and track each individual students progress to better help each student reach his or her individual learning potential. This is called assessment and analysis.
The second portion is planning and instruction and ends with the third portion called progress monitoring. Each of these educational benchmarks are carefully recorded so that individual step-by-step classroom plans and activities give each student the strongest chance to succeed.
For more information about AIMSweb at the TC District Schools, call Sandra Roe at 928-283-1036 and ask about the upcoming training for the staff members that will be held in the next few months.
(Rosanda Suetopka Thayer is Public Relations Director for Tuba City Unified School District.)