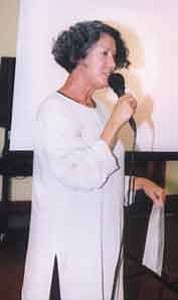 Originally Published: August 31, 2005 5 a.m.
POLACCA -- Hopi Jr/Sr High School has hope of improving the education of its students with the help of the Hope Foundation.
The Hope Foundation is a nonprofit educational organization that helps schools become better schools.
Lynn Fredericks, a Hopi Jr/Sr High reading teacher and a member of the school's Hope Foundation Leadership Team, said Hopi Jr/Sr High School is already a good school but needs to look at the way it can improve the quality education for the students.
"It's good to bring in consultants who see things we don't and know about educational approaches that we don't have in place," she said.
During a recent two-day in-service, the Hope Foundation went over the school's goals and problems with the teachers and staff.
Joan Schooley and Barb Karll were the two educational consultants from the Hope Foundation who worked with the teachers and staff.
Fredericks, who also serves on the school's Northern Central Accreditation team, said a lot of work was accomplished during the two days, although she thought the Hope Foundation's presentation on the second day was confusing and not well presented.
But, Fredericks said they established that the school needs data driven goals. She said the Community School Reform Plan (CSRP) in the past has developed goals that sometimes were completed and sometimes they were not completed.
"Some feel that we're not looking at what will really help the students. We need to establish goals and track them to see if they're working," she said.
Fredericks said Hopi Jr/Sr High School can develop the goals, and then the Hope Foundation can come in to train them to implement those goals.
"We're in the process of developing goals and then tracking to see if we reach those goals," she said. "We've started with some of the goals, but we have to meet with each department to see about their goals."
Fredericks said the Hope Foundation looks at how students are learning, if they are learning and what can be done to help them learn.
Fredericks said they tried to push too much into the two-day gathering.
"We need to slow down and do motivational team building," she said.
Fredericks emphasized that the Hope Foundation will come out eight more times during this school year.
"We'll meet with them soon to establish timelines," she said.
Fredericks noted that the Hope Foundation consultants thought that Hopi Jr/Sr High School has a positive environment.
"They feel that all the teachers here want to help all the students--and you don't get that at all the schools," she said.
Fredericks added that the consultants told her they thought it was good that the school is not like a large school district because this way they can make a lot of the decisions right away on site.
Fredericks is one of eight members on the Hope Foundation Leadership team. The others are Charlene Clark, James Lomakema, Sally Olsen, Annie Goy, Andrew Johnson, Lavonne Navakuku and Anjeanette Sangster.
Any of the leadership team members can be contacted at the school at 738-5111 for more information.
(Stan Bindell, former Observer editor, is journalism and radio teacher at Hopi High School.)