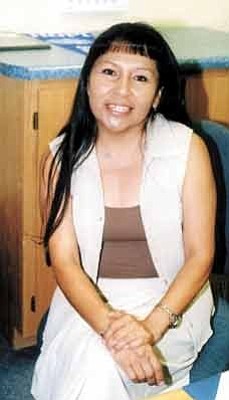 Originally Published: August 25, 2005 5 a.m.
POLACCA -- Lavonne Navakuku is the new parent liaison at Hopi Jr/Sr High School.
The school created the position in order to open the lines of communication with parents. Navakuku, a former substitute teacher at Hopi Jr/Sr High School, started the job on Aug. 11.
"My job is to provide parents with information in language they can understand and work with PAC (Parent Advisory Committee)," she said. "My job is to get a system going so communication flows and doesn't stop in any one place."
Navakuku said at the first PAC meeting she plans to present a training about AIMS (Arizona Instrument to Measure Skills) testing, how many seniors have passed the test so far and what seniors who haven't passed the test need to do.
Another part of Navakuku's job will be disseminating information to parents whether it's on AIMS or other educational issues.
"I would like to see more participation by parents--not just at athletic events, but academics," she said.
Navakuku said she is excited about working with families because then she can know the reasons behind their frustrations.
"I would like parents to feel free to call me," she said. "Many are just concerned and I may be able to find a way to help them solve their problems. I can also help parents understand the reason for the rules and procedures that are in place."
Navakuku sees her job as being neutral rather than adversarial.
"My job is to provide information to the parents and the administration," she said.
Navakuku said the law now requires that schools have a resource person who the public can contact. She added that it's good that Hopi Jr/Sr High School created
this position as she plans to work with all the villages.
Navakuku said she would also like to work with all the elementary schools on Hopi because that way the students could have a smoother transition into junior
high and high school. Navakuku's job also includes:
¥ Facilitating the planning and development of a comprehensive plan for all parent involvement activities.
¥ Scheduling, advertising, implementing and evaluating all parent involvement events.
¥ Recommending and scheduling consultants and staff who can provide training for parents.
¥ Assisting teachers with planning and implementing parental efforts.
¥ Organizing and implementing student and family instructional activities such as science and literacy nights.
¥ Creating or updating surveys to be completed by parents and community.
¥ Establishing partnerships with higher education institutions as well as local departments and businesses to support parent involvement.
Born and raised in Polacca, Navakuku graduated from Winslow High School. She earned a bachelor's of science and master's degree in education, both from Northern Arizona University in Flagstaff.
For the past two years, she served as support services liaison for Hopi Head Start. The previous year, she taught at Havasupai. She worked two years at Hopi Jr/Sr High as a substitute teacher and previously worked five years as an administrative secretary for Aid to Families with Dependent Children.
(Stan Bindell, former Observer editor, is journalism and radio teacher at Hopi High School.)