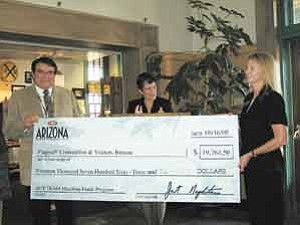 Originally Published: August 25, 2005 5 a.m.
FLAGSTAFF--Governor Janet Napolitano visited Flagstaff on Aug. 16 to present Teamwork for Effective Arizona Marketing (TEAM) awards to three organizations.
The Arizona Office of Tourism joined Governor Napolitano in announcing the recipients of AOT's Teamwork for Effective Arizona Marketing (TEAM) grants last month. TEAM, a program that enables communities and organizations throughout Arizona to promote their tourism offerings, awarded $1.4 million to 73 organizations in all 15 Arizona counties, including 10 tribal entities, in Fiscal Year 2006. TEAM grants fund advertising, public relations campaigns, research and strategic planning and other tourism-related marketing.
Governor Napolitano honored the organizations in Flagstaff at the Flagstaff Visitors Center at 1 Route 66. Award recipients included the Flagstaff Convention and Visitors Bureau ($19,763), Arboretum at Flagstaff ($14,969) and Arizona Rocks ($39,480), which includes the communities of Flagstaff, Page and Williams in Flagstaff.
"I am thrilled to have the opportunity to present TEAM funding to these worthy organizations," said Governor Napolitano. "The TEAM program equips Arizona's communities with the tools to establish successful marketing programs and reaches all 15 counties, and enabling communities and tribes to prosper in their tourism efforts."
All TEAM applicants must attend one of the workshops held statewide by AOT to gain eligibility. The workshops educate the participants on developing a marketing plan with measurable results and writing an effective grant application. Tourism specialists from Arizona's two major universities evaluate the applications. TEAM grants for FY07 will be announced in June 2006.
"This year, AOT saw a tremendous increase in applications for TEAM funding, which demonstrates the importance of the program to organizations across the state," said Margie A. Emmermann, Director of the Arizona Office of Tourism. "These grants are a critical part in the development and innovation of the tourism industry in Arizona."
For more information on TEAM, please visit the Tourism Development section of www.azot.com.