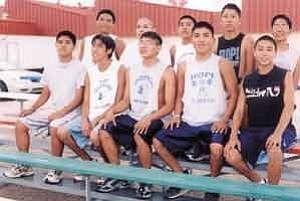 Originally Published: August 25, 2005 5 a.m.
POLACCA -- The Hopi High School girls cross country team has the goal of winning state while the Hopi High boys look to win their 16th straight state championship.
Harvey Honyouti, coach of the Hopi High girls cross country team, has three returners from last year's team.
The repeaters are Tracy Honani, Danielle Tom and Erika Namoki. Honani is the lone senior.
Coach Honyouti said it is hard to tell who the team leader will be this season, but with 33 runners out for the team he believes Hopi High will be competitive.
"We should do well. The goal is always to win state," he said.
But, Coach Honyouti added, that depends on which teams are strong. He emphasized that with Chinle High School moving into the 3A North Conference that it will be more competitive.
"We need to stay eligible and healthy," he said. Coach Honyouti said he hopes the girls stayed in cross country shape during the summer.
"I hope they ran. They had their own workouts and we sent several to camp," he said.
The Lady Bruins lost two seniors to graduation, Tashanna Masayesva and Marissa Leslie. With practices just getting underway, Coach Honyouti said it remains to be seen who the newcomers are who will help the team.
Coach Honyouti said the Hopi Invite will be a gauge to see where the Hopi team is at and what they need to work on.
"It would be nice to win, but that's not a priority. We want to give the younger kids a chance," he said.
Honyouti said he enjoys coaching because the kids are great, and the parents and administration are both supportive.
"I like coaching cross country because of the quality of kids who come through this program. It's a nice change of pace from being dean. But I also have a love for this game," he said. Honyouti, who graduated from Phoenix Indian High School, has been coaching girls cross country since the mid-1980s when the school opened.
Honyouti said he hopes everybody continues to come out and support the runners.
"We have a lot of support from families not in the program. We appreciate everybody's support," he said.
Honyouti has a bachelor of arts degree in sociology from the University of Arizona and his master's in educational leadership at Northern Arizona University.
Boys cross country
Rick Baker, the boys coach at Hopi High, lost three of the state championship team runners to graduation. Stet Lomayestewa, Travis Sahneyah and Harry Kisto III were the state championship team runners who moved on.
The four returners are Matt Lamson, Vonn Secakuku, Chad Baker and Andrew Honyaktewa. Nathaniel Numkena is the lone senior returning to the team.
Coach Baker said junior Cameron Sinquah, sophomore Levon Nahpi, freshman Kevin "Fat Boy" Rivers and Numkena will be among those battling for the fifththrough seventh spots.
Coach Baker said he expects Lamson, Secakuku and Baker to be the team leaders. About 20 Hopi High runners came out for the team.
Hopi High will open its season with the Hopi Invite at 3 p.m. Aug. 30. About 20 teams are expected to compete in both the boys and girls divisions.
"We want to be competitive. In the early season, we'll see who has been running during the summer and give some of the younger runners some varsity experience," he said. "It will take at least three weeks to find our core of the seven best runners for the season."
Coach Baker said the boys cross country team practiced hard during the summer as the Bruin runners had team practices, attended Camp Anasazi in Flagstaff and hosted their own Hopi camp.
As a former runner at Winslow High School, Baker said he continues to enjoy coaching cross country.
"The success that we've had here makes it more fun, and it makes it easier," he said. "This is one of the most successful programs and I enjoy working with kids who work hard. I've always been a runner."
Coach Baker said the team should be one of the top teams in conference and competitive at state, but like always he wouldn't make any predictions.
Baker, who earned his bachelor of science degree in education and physical education from the University of Central Oklahoma, said a key goal is making sure the runners are academically eligible and injury free.
As for academics, Baker said the student athletes "just need to buckle down."
(Stan Bindell, former Observer editor, is journalism and radio teacher at Hopi High School.)