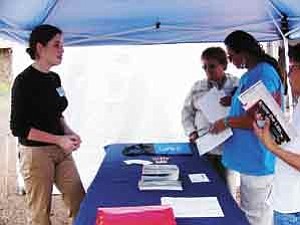 Originally Published: August 18, 2005 5 a.m.
FLAGSTAFF -- Jill Moran, a program specialist with the U.S. Department of the Interior Indian Arts and Crafts Board, made the journey from Washington D.C. to visit with artisans and visitors to the 56th Annual Navajo Festival of Arts and Culture at the Museum of Northern Arizona July 30 and 31.
Moran spent her time handing out information, pens and tote bags--and doing a lot of talking with people.
"The Indian Arts and Crafts Act (1990) is a truth in advertising law," Moran explained. "This law prohibits the sale of arts and crafts as Indian made unless they have actually been produced by Native Americans. That means more than just having a Native American on hand to touch each piece as it goes through the production line."
The law covers all traditional and contemporary articles produced after 1935, Moran said.
It requires that all artwork--jewelry, pottery, baskets, stone fetishes, rugs, beadwork, Katsina dolls and even clothing--that is sold as being Indian made must have been produced by member of a federally or state recognized tribe, a certified Indian artisan or be the product of a particular Indian tribe.
"Everyone is aware of violations to the act," Moran said. "But to prosecute violators, we need to receive a complaint. Complaints can be filed anonymously but we prefer that individuals identify themselves and give contact information so that we can call them if we have questions, or need to clarify information."
Anyone can file a complaint with the Indian Arts and Crafts Board (IACB)--but it must be written, and should include details as to who was selling the item (include name, address and telephone number of the seller if possible) and a description of the art or craftwork. Explain how the item was offered for sale and how the article was represented, such as the name of a specific tribe or Native American individual. Include as much detail as possible. Where possible, include copies of other documentation such as catalogs, brochures or business cards. Originals will not be returned. Also, Moran said, please do not send the article in question.
Again, where an individual is reluctant to file a formal written complaint, he or she can pass on information about potential violations.
Buyers are advised to purchase items only from reputable dealers or from Native American artists directly.
Ask questions when you buy items," Moran said. "Ask about how the item was purchased and from whom. Also, ask for a certificate of authenticity or written verification that the item is an authentic piece of Indian artwork."
The IACB advises buyers that if someone purchases a piece of artwork represented as Indian-made and later learns that it is not authentic, he or she should first contact the seller and request a refund. If that request is denied, buyers should file a complaint not only with the IACB, but also with the local Better Business Bureau and the local District Attorney's office.
Complaints should be sent to: Indian Arts and Crafts Board, U.S. Department of the Interior, 1849 C Street NW, MS 2058-MIB, Washington, DC 20240.
One can also receive a free copy of the Indian Arts and Crafts Act of 1990 (P.L.-101-644) and amendment (P.L. 106-497) at the above address, or visit the web site at www.iacb.doi.gov. E-mail can be sent to iacb@os.doi.gov, or one can call 202 208-3773 or toll free at 888 ART-FAKE.