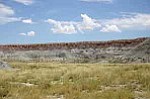 Originally Published: August 3, 2005 5 a.m.
I had another column prepared for this week, but a life-and-death incident made this one more important.
On Saturday July 29, I went head-to-head with the desert elements that tested the strength of my body and my self-preservation. If not for a miracle or two, I would have lost the battle.
The night before, I drove out to the Little Painted Desert County Park on State Route 87 about 20 miles north of Winslow to take pictures of the sunset hoping I could use one to fill a hole in this week's paper. Unfortunately, clouds blocked the view. But I met a couple who are temporarily living in Winslow. We ended up talking for a few hours about Winslow and constellations and such. Before the sun had set, the husband had climbed into the Little Painted Desert. We lost sight of him briefly, but he didn't go far enough that he couldn't get back out. I guess that's what inspired me to do the same the next day.
So on Saturday morning, I set out with my camera, a couple bottles of water and an adventurous spirit to climb to the bottom of the Little Painted Desert. But what I didn't do was take enough water or another person. This decision nearly became the last mistake I would ever make.
Shortly before noon, I arrived at the park. There was a pickup truck near the north end. I parked at the south end, grabbed my gear and looked for a gentle slope to use. I found one near where I had parked and started my descent.
It took about 20-25 minutes to reach the bottom. In fact it was so quick I doubted whether I had actually reached the floor. I followed a path cut by streams of water that were long gone. Most of the trail was dried cracked mud. When I was sure I had reached the bottom, I took a sip of water and looked up at the steep trail I had just used. I decided I would save the remaining two-thirds of water for the climb out.
I took pictures for about an hour while following a wider riverbed. I was hoping to find an arrowhead or piece of pottery or something interesting from the indigenous cultures. The only signs of human presence were empty beer cans and liquor bottles.
I don't know what time it was but I decided to turn back because my camera was nearly full. I followed the riverbed back to the base and started to climb a path that seemed familiar. I thought I could follow my footprints out of the canyon. After a few minutes, I realized I didn't see any footprints.
Still, I was sure I was following the right path. I continued to take sips of water and climb the steep sandy hills.
The hills with their colorful bands look like sturdy rock from the rim. But that's the Little Painted Desert's dirty secret. Those hills are loose sand that makes it very difficult to get good footing.
At times I would take a few steps and slide back one not realizing that this was forcing me to expend all the strength and energy than I would need.
To make matters worse, the sun was beating straight down on me and there was no shade anywhere. I heard that Winslow had cloud cover that day. Above the Little Painted Desert were little white clouds dotting the blue sky. They rarely blocked the sun.
I don't know how long I was climbing for, but it soon became clear to me that I was lost and was running out of steam. I think I began calling for help, remembering that truck that was parked earlier. It was gone and no one was around for miles.
I didn't know that then, of course, so I kept calling out for help while looking for a way out. I tried one steep point that reminded me of a camel's humps, but I couldn't make it up. I slid down about 15 feet or so. I looked behind me, but the bottom was just as far as the top, or so it seemed. Besides, there was no shade anywhere and the temperature hadn't hit its peak yet. I needed to get to the top. There was no other choice.
I moved around the camel's humps and found what I believed to be the path I took down. I struggled in the loose sand to climb up and managed to crawl to the point where the sand turned red. I continued to call out for help knowing I was very near the top. No one came.
I grabbed hold of a bush and pulled myself over it. Then I used the bush as support to kick my way up to what I thought was the top. I put one hand on a little peak and dragged my body to look over only to see a deep gully on the other side.
The gully was maybe five or six feet deep and very steep. If I had had the strength to drop into it, it would have meant only a few more feet to the top. I could see the flat terrain maybe 10 feet straight ahead of me. But the sun and the loss of water had taken its toll.
With my last remaining strength, I heaved my camera pack over to the top ledge. I watched as it rolled back toward the gully then stopped on a little bush. I sucked the last few drops from the empty water bottle, dropped it and collapsed.
I slid down the side of that peak and just lay there. I kept calling for help but I was pretty sure no one would hear me. I think I crawled a little ways toward the top. I know I could see it maybe 20-25 feet away, but I had no more energy to attempt to save my life.
In the span of about an hour and a half, I had completely dehydrated. I could barely lift my head. I covered my face with my hat and continued calling for help. My mouth and lips were so dry that I couldn't swallow. I feared my tongue would dry out too and I wouldn't be able to call out anymore.
I looked up at the blue sky and prayed for a cloud to pass in front of the sun. It felt as if the sun was boring holes in my bare legs and forearms. But the clouds moved slower than a snail's pace.
I tried to breathe easy to prevent panicking. I was still lucid. My mind was strong even if my body was useless. As long as my brain still worked, I would not quit.
It was about that time that I remembered I had my cell phone. I slowly dug it out of my pocket and dialed 911. It didn't connect. Unfortunately, service in that area is very poor. But I kept dialing. About the fifth or sixth try, it connected. I got the operator in Flagstaff.
Call it a miracle of technology, or a supernatural miracle or an act of God. I don't care what allowed me to get through, only that I did.
But the connection was poor and the operator had difficulty hearing me. I couldn't speak full sentences either making things worse. I said I was at "theS LittleS PaintedS Desert. I fell. HelpS me." She tried to repeat back to me what I had said and although I don't remember exactly what she said, I know it wasn't even close.
I adjusted my phone to my other ear and that worked. She transferred me to Tuba City, who transferred me to Dilkon who transferred me to Winslow. Even in my weakened state I found this irritating. But I was just happy to have reached someone.
I can't remember the details of what I said to anyone or how long we talked. I know that service cut out on me once and when I redialed 911, I went through the same circle of operators.
I was still on the line when I heard a voice in the distance coming from the top of the canyon. I called out as loud as I could. Soon, as if out of nowhere, a woman came into view.
Amy, from Action Medical Service, had seen my camera pack and then soon saw me. She asked a few questions and checked to make sure I was alive. She then climbed back up to grab some items from the ambulance and let her partner, Norma, know where I was.
The sun can play some nasty tricks on our minds. Until this time though, I don't believe I had any hallucinations or delusions. But it seemed like a long time before Amy returned and for the first time I questioned whether I had actually seen someone.
But she returned and my sanity was restored. She placed a few cold compresses on my head and chest and hooked up an IV. Later she would tell me that dehydration had taken its toll to the point that I was no longer sweating.
I drank the water she gave me too and starting feeling like I would be fine. But I wasn't out of the canyon yet. Amy and Norma were not big enough to carry me out. So they called for Winslow Firefighters to help. About five or six guys showed up.
Thanks to the water and IV, I was able to sit up and with a little help, stand up. With a great deal of help from the firefighters, I was able to crawl to the top and eventually the ambulance.
However, I apparently drank the water too fast and my stomach started cramping. It felt like hiccups but with very sharp painful stabs occurring every second. The cramps made breathing difficult too. I looked around to see where I was. I missed the path I used to descend by maybe 100 feet.
I was taken to Winslow Memorial Hospital where I received two more liters of fluids intravenously. After a few hours, I was able to breath normal, eat and stand up on my own. I escaped with no more than a few scratches on my legs and arm. Surprisingly, I wasn't burned. The SPF 15 did its job. I also gained a greater respect for the sun and the desert.
I tell this story for two reasons. First, as a precautionary tale. Never hike alone and always bring more water than you think you will need. I was only exposed to the sun for about three-and-a-half hours. A couple more, and someday the police would be identifying my dental records. And always carry a cell phone.
Second, I want to publicly thank all the people who saved my life. As of right now, I don't know who they all are, but I will find out so I can properly thank them.
But I'm not the only person those people have rescued. In cases like this, emergency crews say they were just doing their jobs. But because they do, people like me can live to do ours. Thank you.
More like this story