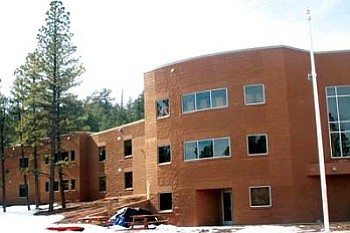 Kinlani Bordertown Dormitory in Flagstaff in shown Feb. 27. The dormitory, funded by a grant from the Bureau of Indian Education, gives students from various tribal groups in northern Arizona the ability to attend Flagstaff High School (Cronkite News Service Photo/Nora Avery-Page).
Stories this photo appears in:

FLAGSTAFF - The beat of drums, rattle of traditional shakers and hum of chanting fill the room as 10 teens from the Navajo Nation and other tribes join in what's known as a drum circle. It's an after-school activity at the Kinlani Bordertown Dormitory, a place where nearly 150 Native American youth live while they study at Flagstaff High School. As they pursue their education, the dorm's staff works to make sure the students continue developing the values important back home.