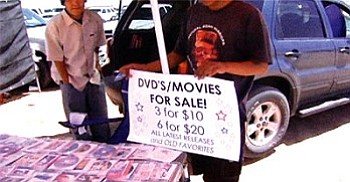 A still shot from a documentary by Andee and Shonie De La Rosa shows an unidentified Navajo man advertising the sale of illegally pirated copies of DVDs at a local flea market on the Navajo Reservation. The Navajo Nation is close to passing legislation which would make it illegal to copy and sell copyrighted CDs and DVDs of any kind on the Navajo Nation. If passed, this legislation will most likely be the first of its kind in Indian Country.
Stories this photo appears in:
Navajo Nation considering CD/DVD anti-piracy legislation
Across the Navajo Nation in stores, gas stations, and especially at roadside bazaars and markets, tables are stocked with duplicated music and copied movies. These "pirated" items come in two major forms: DVDs and CDs. The breadth and depth of variety of these items is boundless. From new releases and feature films to classics, independently made movies and every type of music imaginable, the merchants stock their tables with everything your heart desires.