Originally Published: September 25, 2018 2 p.m.
The Texas Camel Corps arrived at Winslow Visitor's Center with four camels and many camel facts.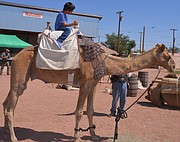 Douglas and Trish Baum from Valley Mills, Texas are the owners and presenters of these camels and camel facts. The history of camels in Arizona was explained and children were allowed to pet the camels in groups of 3- 4.
More like this story