Originally Published: September 25, 2018 1:47 p.m.
This is final part in a three part series on missing Native American women. See previous editions of the Navajo-Hopi Observer for part I and II.
VALIER, Mont. (AP) — Browning is the heart of the Blackfeet Nation, a distinctly Western town with calf-roping competitions, the occasional horseback rider ambling down the street — and a hardscrabble reality. Nearly 40 percent of the residents live in poverty.
The down-and-out loiter on corners. Shuttered homes with "Meth Unit" scrawled on wooden boards convey the damage caused by drugs.
With just about 1,000 residents, many folks are related and secrets have a way of spilling out.
Ashley HeavyRunner Loring, a 20-year-old member of the Blackfeet Nation, was last heard from around June 8, 2017. Since then her older sister, Kimberly, has been looking for her.
She has logged about 40 searches, with family from afar sometimes using Google Earth to guide her around closed roads. She's hiked in mountains, shouting her sister's name. She's trekked through fields, gingerly stepping around snakes. She's trudged through snow, rain and mud, but she can't cover the entire 1.5 million-acre reservation, an expanse larger than Delaware.
Photo Gallery
Why Are Native Women Vanishing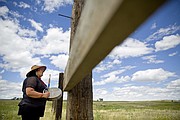 Ashley's disappearance is one small chapter in the unsettling story of missing and murdered Native American women and girls. No one knows precisely how many there are because some cases go unreported, others aren't documented thoroughly and there isn't a specific government database tracking these cases.
"There's always somebody talking," says Ashley's cousin, Lissa, "And it seems like to us since she disappeared, everybody got quiet. I don't know if they're scared, but so are we. That's why we need people to speak up."
Missing posters of Ashley are displayed in grocery stores and the occasional sandwich shop. They show a fresh-faced, grinning woman, flashing the peace sign. In one, she gazes into the camera, her long hair blowing in the wind.
One of nine children, including half-siblings, Ashley had lived with her grandmother outside town. Kimberly remembers her sister as funny and feisty, the keeper of the family photo albums who always carried a camera. She learned to ride a horse before a bike and liked to whip up breakfasts of biscuits and gravy that could feed an army.
She was interested in environmental science and was completing her studies at Blackfeet Community College, with plans to attend the University of Montana.
Kimberly says Ashley contacted her asking for money. Days later, she was gone.
At first, her relatives say, tribal police suggested Ashley was old enough to take off on her own. The BIA investigated, teaming up with reservation police, and interviewed 55 people and conducted 38 searches. There are persons of interest, spokeswoman Nedra Darling says, but she wouldn't elaborate. A $10,000 reward is being offered.
The FBI took over the case in January after a lead steered investigators off the reservation and into another state. The agency declined comment.
Ashley's disappearance is just the latest trauma for the Blackfeet Nation.
Theda New Breast, a founder of the Native Wellness Institute, has worked with Lucchesi to compile a list of missing and murdered women in the Blackfoot Confederacy — four tribes in the U.S. and Canada. Long-forgotten names are added as families break generations of silence. A few months ago, a woman revealed her grandmother had been killed in the 1950s by her husband and left in a shallow grave.
"Everybody knew about it, but nobody talked about it," New Breast says, and others keep coming forward — perhaps, in part, because of the #MeToo movement. "Every time I bring out the list, more women tell their secret. I think that they find their voice."
Though these crimes have shaken the community, "there is a tendency to be desensitized to violence," says Ivan MacDonald, a member of the Blackfeet Nation and a filmmaker. "I wouldn't call it avoidance. But if we would feel the full emotions, there would be people crying in the streets."
His aunt, Mabel Wells, would be among them.
Nearly 40 years have passed since that December day when her daughter, Monica, vanished. Wells remembers every terrible moment: The police handing her Monica's boot after it was found by a hunter and the silent scream in her head: "It's hers! It's hers!" Her brother describing the little girl's coat flapping in the wind after her daughter's body was found frozen on a mountain. The pastor's large hands that held hers as he solemnly declared: "Monica's with the Lord."
Monica's father, Kenny Still Smoking, recalls that a medicine man told him his daughter's abductor was a man who favored Western-style clothes and lived in a red house in a nearby town, but there was no practical way to pursue that suggestion.
He recently visited Monica's grave, kneeling next to a white cross peeking out from tall grass, studying his daughter's smiling photo, cracked with age. He gently placed his palm on her name etched into a headstone. "I let her know that I'm still kicking," he says.
Wells visits the gravesite, too — every June 2, Monica's birthday. She still hopes to see the perpetrator caught. "I want to sit with them and say, 'Why? Why did you choose my daughter?'"
Even now, she can't help but think of Monica alone on that mountain. "I wonder if she was hollering for me, saying, 'Mom, help!'"
The search continues
Ash-lee! Ash-lee!! Ash-lee! Ash-lee!!
Some 20 miles northwest of Browning, the searchers have navigated a rugged road lined with barren trees scorched from an old forest fire. They have a panoramic view of majestic snowcapped mountains. A woman's stained sweater was found here months ago, making the location worthy of another search. It's not known whether the garment may be Ashley's.
First Kimberly, then Lissa Loring, call Ashley's name — in different directions. The repetition four times by each woman is a ritual designed to beckon someone's spirit.
Lissa says Ashley's disappearance constantly weighs on her. "All that plays in my head is where do we look? Who's going to tell us the next lead?"
That weekend at the annual North American Indian Days in Browning, the family marched in a parade with a red banner honoring missing and murdered indigenous women. They wore T-shirts with an image of Ashley and the words: "We will never give up."
Then Ashley's grandmother and others took to a small arena for what's known as a blanket dance, to raise money for the search. As drums throbbed, they grasped the edges of a blue blanket. Friends stepped forward, dropping in cash, some tearfully embracing Ashley's relatives.
The past few days reminded Kimberly of a promise she'd made to Ashley when their mother was wrestling with substance abuse problems and the girls were briefly in a foster home. Kimberly was 8 then; Ashley was just 5.
"'We have to stick together,'" she'd told her little sister.
"I told her I would never leave her. And if she was going to go anywhere, I would find her."
Photographer David Goldman, reporter Mary Hudetz, data journalist Angeliki Kastanis and video producer Padmananda Rama contributed to this report.