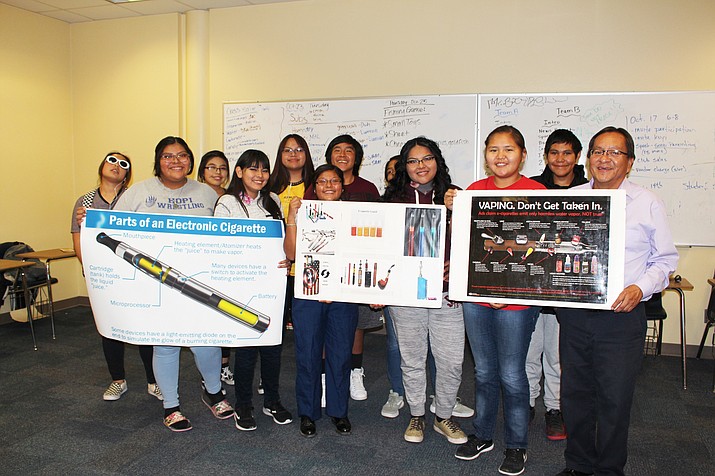 Originally Published: October 23, 2018 4:16 p.m.
POLACCA, Ariz. — Stewart Dukepoo, director of the Hopi Tobacco and Education Prevention Program, admits he tried smoking when he was a kid.
"I wasn't hard core, but I tried it. Maybe due to peer pressure, but it got me nauseated," he said.
Maybe that was good since tobacco has been known to cause cancer and other health problems.
Dukepoo spoke to the Hopi High sophomore AVID class last week about problems with tobacco, especially vaping. He was also interviewed on the Hopi High Teen Show on KUYI, Hopi radio.
The Hopi Tobacco Education and Prevention Program continues to have the goal of making this a non-smoking generation along with preventing kids from smoking, chewing or vaping tobacco.
One key part of this is the Hopi Tobacco Youth Coalition. This coalition involves junior high and high school students. It is part of a nationwide and statewide coalition. While Flagstaff and Winslow have Native American students involved in their anti-smoking coalitions, Dukepoo said the Kaibab-Paiute and Hopi Tribes are the only tribal youth programs he knows about that have anti-smoking coalitions.
The Hopi Tobacco and Education Prevention Program is housed with the Hopi Cancer Support Services office. They are planning a girls' night out Oct. 29 at the Hopi Veterans Center.
One of Dukepoo's current missions is the fight against vaping. He said vaping comes in hundreds of flavors. He said tobacco is a plant, but when companies make cigarettes they add dangerous chemicals, especially nicotine, which is addicting.
"If you're in sports you don't want to smoke," he said.
Dukepoo said the youth coalition doesn't just speak out about anti-smoking as it works with students to give them skills to make presentations.
"We want them to learn how to do their presentations and plan how to do that for different age groups," he said.
The Hopi Tobacco Education and Prevention Program participates in several national events each year including the Great American Smokeout Nov. 15, Kick Butts Day in March and World No Tobacco in May.
The Hopi Tobacco Education and Prevention Program was created in 1999, mainly to work with students. They have worked with the schools in Hotevilla and Second Mesa this school year. They also work with the youth centers in the villages.
Dukepoo said there is no smoking within 50 feet of the tribal buildings, but each village has its own rules regarding smoking.
The Hopi Tobacco Education and Prevention Program also encourages its youth coalition members to get involved with community service projects.
Aubrey Harvey, a sophomore AVID student, is in the Hopi Youth Coalition anti-smoking program. Harvey said that she has volunteered with Climb the Mesa, Veteran's Day as a server and the 100 Mile Club as a flagger.
E-cigarettes, which are also called vaping, are battery operated devices that are filled with a liquid that contains flavoring and harmful chemicals.
The Hopi Tobacco Education and Prevention Program gave out a flyer that states there are five information items about e-cigs.
*First, e-cigarettes are addictive; second, e-cigarettes contain harmful chemicals. (The FDA found alarming levels of traces of diethylene glycol, a poison used in antifreeze in e-cigarettes); third, e-cigarettes puts users at risk for nicotine poisoning, sometimes the devices leak nicotine onto the skin or inside the users mouth; fourth, e-cigarettes are not regulated and fifth, the health effects of e-cigarettes are unknown.
This flyer also states that some pot smokers are creative by disguising smoking weed by using e-cigarettes because it emits an odorless vapor.
This may cause the following side effects: Memory loss and trouble concentrating; weight gain; panic attacks; paranoia; trouble sleeping; increased risk of several types of cancer; weakened immune system; greater risk of having unprotected sex; chest and lung problems and increased heart rate.