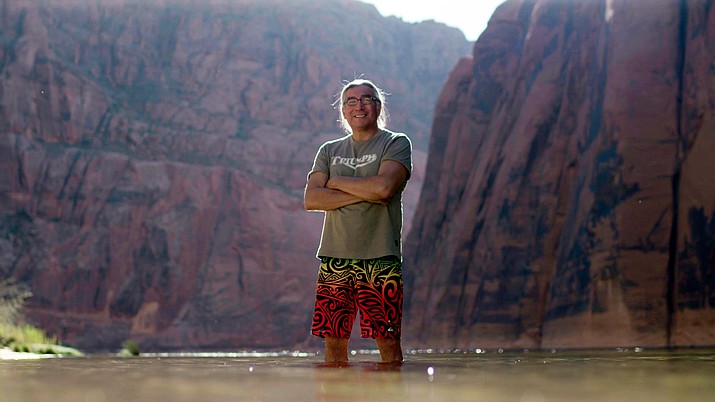 Originally Published: October 16, 2018 11:24 a.m.
FLAGSTAFF, Ariz. — Native America, a new four-part series from Providence Pictures, premieres Tuesday evenings from Oct. 23 – Nov. 13, at 9 p.m. 10 p.m. ET (check local listings) on PBS. Hotevilla Village will have a special screening Oct. 20.
Weaving history and science with living indigenous traditions, the series brings to life a land of massive cities connected by social networks spanning two continents, with unique and sophisticated systems of science, art and writing. Made with the active participation of Native American communities and filmed in some of the most spectacular locations in the hemisphere, Native America illuminates the splendor of a past whose story has for too long remained untold.
Executive producer and director Gary Glassman said the documentary differs from others that have sought to tell Native peoples' stories in a few important ways.
"So many textbooks and films start [with] the history of Columbus and the Pilgrims," Glassman said. "They mostly ignore the thousands of years prior to European contact during which time Native people developed sophisticated ways of living based on a synthesis of science and spirituality."
In fact, Glassman said, before 1492 there were 100 million people, connected by social and cultural networks spanning continents, living in massive cities, many of which were aligned with celestial events.
"Native Americans created a unique world in which people live as part of nature — earth, sky, water — and all living things; a world that is alive in the traditions of the 50 million Native people living today," Glassman said.
Another important difference is that this four-part documentary was made in collaboration with the Native people in the film and every aspect of the film — footage, scripts, animations — was made with their engagement and input, including inventive animations by Academy Award-nominated artists and 3D computer modelling, which bring ancient ruins to life, enabling viewers to experience the pre-Columbian world in an immersive way.
"We spent at least a year visiting communities, talking with faith keepers, leaders, clan mothers and councils to express the promise that this series could be an authentic voice for Native people," Glassman said. "We invited the people we met with to share whatever they chose to share and promised that we would engage with them throughout the entire production process… allowing full editorial control of what they wanted to include or exclude in the films. Through this intimate collaboration, we believe our series is an authentic expression for Native voice and knowledge."
The producers of Native America were given remarkable access to Native American communities, going behind the scenes at special events, including a pilgrimage to ancestral ruins at Chaco Canyon in New Mexico, a trek across lost territories in the American West and an investiture ceremony for a chief in the Pacific Northwest, surrounded by cedar totem poles and centuries of tradition. Tribal members and descendant communities, whose ancestors built this world, share their stories, revealing long-held oral traditions as the thread that runs through the past to these living cultures today.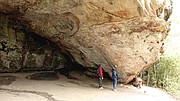 The pilgrimage to ancestral ruins in Chaco Canyon was taken by Leigh Kuwanwisiwma, former director of the Hopi Cultural Preservation Office and other Hopi tribal members.
Kuwanwisiwma told Tara Gatewood, host and producer of Native America Calling, in an interview Oct. 11 on her show that the project was brought to Hopi's attention three years ago and while the Hopi are skeptical of portrayals of themselves in the media, this project was different — and an advisor team of 12 representatives from the 12 Hopi villages was consulted.
"[We] felt that this documentary would be within the mission of the Hopi Cultural Preservation Office," Kuwanwisiwma told Gatewood, "which is to, again, preserve and protect the Hopi history in the Southwest. In this case, it would document our cultural and spirit interest to a place called Chaco…that features so much in our migration traditions and we felt that this was a way to document that and have that available for future generations of Hopis."
For more on Kuwanwisiwma's thoughts on the program being seen by the public beyond Hopi, listen to the Oct. 11 Native America show on Native America Calling (http://www.nativeamericacalling.com/category/archive/).
Glassman said there were never any issues about what to include or not include in the show because they never filmed anything the Native people did not want included. Glassman said as an example, they had the rare honor of embedding themselves with a host family during the week leading up to the initiation of a new chief in a ceremony called potlatch.
"We were accompanied by a representative of the Hunt family to ensure we did not film anything the Kwakwaka'wakw community did not want to be shared," Glassman said. "It was an incredibly fluid and respectful process. It has the added benefit of it being another way of preserving an ancient tradition and passing it forward for generations to come."
The series highlights intimate Native American traditions and follows field archaeologists using 21st century tools such as multispectral imaging and DNA analysis to uncover incredible narratives of America's past, venturing into Amazonian caves containing the Americas' earliest art and interactive solar calendar, exploring a massive tunnel beneath a pyramid at the center of one of ancient America's largest cities and mapping the heavens in celestially aligned cities.
Glassman said a basic strategy for bringing the past alive was to look at Native America through the lens of modern scholarship and Native knowledge.
"We treated Native beliefs the same way we would treat any world religion — Judaism, Christianity, Islam, Hinduism, Buddhism — we did not use science to prove or disprove sacred beliefs."
Instead, Glassman said they used scholarship and Native knowledge to understand the meaning of stories, why they are important and have endured for hundreds of generations.
"We never questioned any culture's emergence story but rather asked them to share why those stories are sacred," Glassman said. "The fact that there are so many origin stories associated with a special location across north and south America is a clear and powerful message about Native peoples close relationship to the earth, sky, water and all living things."
And Glassman believes that science and scholarship, when used in collaboration with Native communities, can be an important ally for preserving and revitalizing some traditions that could be in danger of being lost.
An example Glassman puts forward is the Amah Mutson band, who are re-establishing cultural burns in the forests of northern California. The benefit for all people is to reduce wildfires, increase biodiversity and restore native plants, and Glassman said through archaeology and botany, scientists are helping find and identify certain native species that have been pushed out by invasive species.
"Now with that knowledge, the Amah Mutson, in collaboration with the California Forestry Department, can restore forests to their original state and help reduce wildfires," Glassman said. "There are many other examples of beneficial collaborations between science and Native knowledge throughout the series."
The series is narrated by Robbie Robertson (Mohawk and member of the famed rock group The Band). Each hour of Native America explores Great Nations and reveals cities, sacred stories and history long hidden in plain sight.
In what is now America's Southwest, indigenous people built stone skyscrapers with untold spiritual power and transformed deserts into fertile fields. In upstate New York, warriors renounced war and formed America's first democracy 500 years before the Declaration of Independence, later inspiring Benjamin Franklin. Just outside Mexico City, the ancient city of Teotihuacan is home to massive pyramids built to align with the sun and moon. On the banks of the Mississippi, rulers also raised a metropolis of pyramids and drew thousands to their new city to worship the sky. And in the American West, nomadic tribes transformed a weapon of conquest — the horse — into a new way of life, turning the tables on European invaders and building a mobile empire.

"I can no longer look at this land without thinking of the millions of Native Americans who created a world in which people lived as family with all living things, and that their way of life still has the power to make a more just and sustainable future," Glassman said.
The serices includes Jim Enote, the director of the A:shiwi A:wan Museum and Heritage Center in New Mexico; Leigh Kuwanwisiwma, a member of the Third Mesa Greasewood Clan of the Hopi Tribe; Hopi elder Ronald Wadsworth; and many more.
Numerous Native American musicians provided music for the series. Clark Tenakhongva (Hopi) performs traditional singing with drum and rattle in Episode One: "From Caves to Cosmos." Featured in Episode Two, "Nature to Nations," is the music of Grammy Award winner Joanne Shenandoah of the Oneida Nation, part of the Haudenosaunee (Iroquois) Confederacy. Timothy Nevaquaya (Comanche), son of the legendary artist and musician Doc Tate Nevaquaya, created original flute music for Episode Four, "New World Rising." Other songs in "New World Rising" are performed by the Comanche Native Tribal Chanters, Wild Band of Comanches and Northern Cree group.  
More information is available at http://www.pbs.org/native-america/coming-soon.